Over the years, company merchandise or, as the cool kids call them, swag (which stands for "stuff we all get"), especially from tech companies, has become something of a talking point and even a status symbol in some circles.
For some, it's a status symbol to signal to others that you're old school, you were around before it all began. As one Quora user pointed out, "what you really want is the swag from companies that looked impressive, but then died... You want that Enron keychain. You want the stuff that says, I was there. I'm still here. They're not. It makes a statement. "
For others, it's not about getting yet another Google water bottle or Facebook T-shirt. It's about getting really useful stuff that's durable, exclusive and memorable. That could be a messenger bag from Quora, a Tile from Airtable, or an apron from Airbnb.
According to Swapnil Agarwal, the developer behind DevSwag, a site that curates opportunities for developers to collect swag, developers love swag because it helps them find their community.
"For some developers, scoring swag feels like a badge of honor, achievement unlocked! They are more than happy to don a tee with a geeky quote or put a sticker on their laptop. This helps them project their preferences and find their tribe easily."
Why do companies bother with swag?
Companies invest in swag for various reasons. The most obvious one is to create hype and buzz around your brand. Did you know that one of the earliest forms of swag were the commemorative buttons produced to celebrate George Washington becoming the first President of the newly formed United States of America in 1789? It was 100 years later when two printers in Ohio, Jasper Meek and Henry Beach, realized that they could print advertisements on school bags, card cases and even horse hats, that the swag industry really began.
Since then, companies have been using swag to promote their brand, products and services. Think about those Slack socks, and Tim Ferriss' favorite Duolingo shirt. The exposure those companies got from their swag, and still do to this day, is an investment that has definitely paid off.
Swag is also a good way to market to your own employees or show them your appreciation. It is also a great physical representation of a company's culture. With the pandemic keeping people at home and employees working remotely, company swag offers that little bit of "connectedness" that we used to get from conversations around the coffee machine.  
Companies are also using swag to incentivize people to contribute or engage with a brand or products. "Let's say (a company) wants to get beta users for a dev tool. It's far easier to get them with swag giveaways rather than traditional advertising," says Swapnil.
Launched in 2018, DevSwag curates different opportunities available for developers to collect swag, and ranks the task difficulty for each opportunity. Tasks and rewards range from leaving a review for a podcast in exchange for stickers, to fixing a bug in exchange for a pair of socks.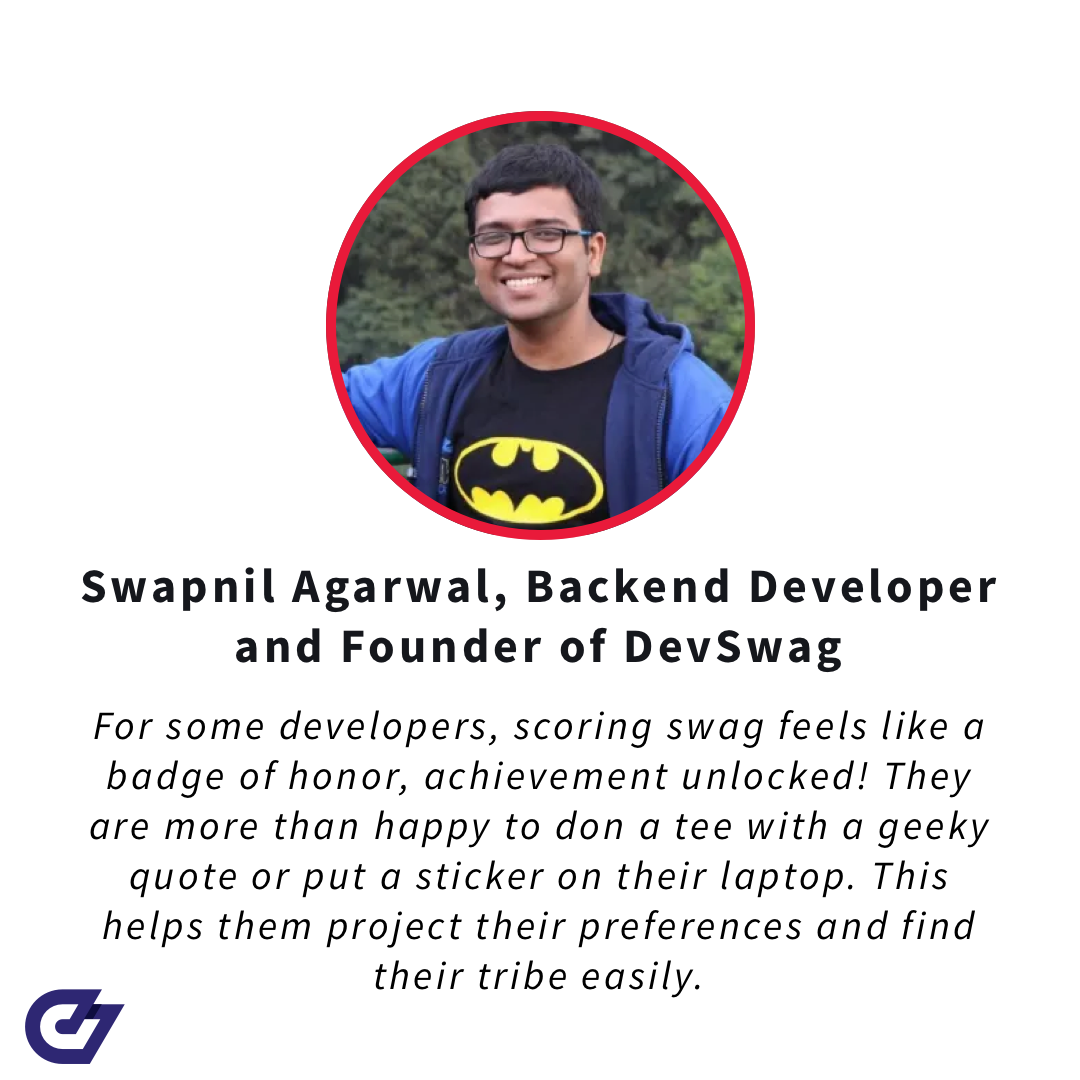 Who's giving out swag?
The Advertising Speciality Institute (ASI) reported that sales for company merchandise rose by 4.7% compared to 2018,  reaching a record high of USD 25.8 billion in 2019.
At the height of the promotional products industry, the team at Kapwing noticed that companies seemed to be giving out swag liberally and wanted to test out how common this was. So, they posed as college seniors "fan mailing" 201 companies asking if they could get some swag.
Out of 201 companies, they successfully contacted 188 of them. They eventually received a response from 146 companies. Of those, they noted that B2C companies were more likely to respond than B2B companies, and B2C companies were more likely to offer swag than B2B companies.
Interestingly, tech or SaaS companies were the least likely to respond compared to other business types like apparel, beverage, and consumer goods. Their response rate was at 64% compared to other business types (82% to 87%). They also found that small to medium sized companies were more likely to give out company swag; these are companies with 11 to 49 employees, or companies with 50 to 249 employees respectively.
Is swag losing its swag?
In 2019, Patagonia decided to shift its sales program to only work with companies that meet certain social and environmental standards, or in their words "mission-driven companies that prioritize the planet".  The company now requires more information about the type of company "whose name will appear on the Patagonia product and how the product will be used. We reserve the right to refuse service."
Just as companies are becoming more conscious about what their brands stand for, their swag, their suppliers and swag recipients are becoming increasingly integrated into the brand's narrative. The public's perception of a brand, especially those of global powerhouses like Google, Facebook, Netflix, and Amazon, largely impact the swaggi-ness of a brand's swag.
In January 2021, in light of Facebook banning former US President Donald Trump on social media, Facebook's internal security team released a memo warning employees not to wear or carry Facebook-branded swag in public. As reported by Gizmodo, "while the memo doesn't appear to explicitly say Facebook employees are at risk of physical assault by Trump supporters, it's easy to read between the lines".
Public perception and public events also play a large role in the perceived swaggi-ness of a company. Just a week after Facebook's memo, Goldman Sachs, had to quickly rebrand a virtual event they had organized to lobby Congress to help small businesses across America. The event that was originally called "Storm the Hill" definitely did not sit well with both organizers nor participants after what happened in Washington DC, and participants were urged not to wear the branded t-shirts that were mailed out to them prior.
Another factor that keeps swag cool and swaggy is its exclusivity. Slack's socks, once exclusive, have now made their way to Slack.shop. Slack fans can now buy a pack of six pairs of socks for €49.80 along with a Slack t-shirt and a baby onesie.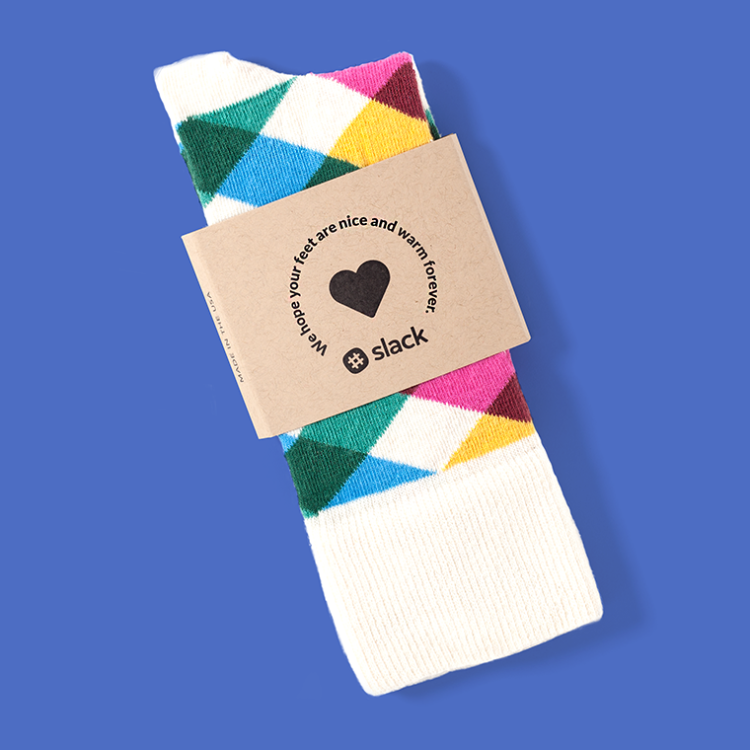 The environmental impact of swag
At the end of 2019, the Meeting, Incentives, Conferences and Events (MICE) industry was expected to grow by USD 840 billion (8%) in 2020 with 52% more event websites popping up compared to 2019. CWT Meetings and Events reported that companies were spending 25% to 30% of their overall marketing budgets on live events.
It is common for people to attend these conferences and collect as many tote bags, t-shirts, water bottles, usb sticks, pens, stress balls, stickers, notebooks, hats, rubber wrist bands, beer bottle openers, and everything else that can be made cheaply and quickly, with a company's logo slapped on for swagginess.
As Elizabeth Segran wrote, many of these companies' merchandise aren't well made or well designed, meaning that we're likely to throw them out after just a handful of uses.
"When you think about all the energy and resources that go into making just one of the tote bags that I have just thrown into the trash–only to end up in a landfill–the impact is staggering."
A quick Google search will show you that companies often compete over costs, but low costs comes at a high price for workers in countries like China, where most of these promotional products are made. By now, we're aware of poor working conditions, lack of safety standards, and very low wages.
This is why companies like Google have a vetted list of merchandise suppliers they work with—companies that sustainably source their materials and do not violate labour laws, meaning without child labour or inhumane working conditions. This could be the way forward for other companies who want to invest in company merchandise.
For Segran, the answer to both creating hype while reducing swag's impact on the environment is to get rid of it entirely. As an alternative, she writes, "consider offering experiences. For instance, I'd appreciate a back massage at a conference, or perhaps a yoga class, or a free headshot. I'd even enjoy a good meal instead of a swag bag."
She continues, "if you wrap the event in your branding, there's a good chance your target customer will remember that experience long after the tote bag is stuffed in a landfill somewhere."
To swag or not to swag?
A quick browse of some HR groups on Facebook and LinkedIn uncover conversations where HR professionals are debating whether to give out company merchandise to employees over the recent year-end holidays, or if they should opt for gift cards as they're a more "practical" way to support employees in this economic climate. Many rallied behind gift cards, especially the ever-versatile Visa gift cards, accepted nearly everywhere in the United States.
But if we're real here, a multi-billion dollar industry is not going to disappear overnight or any time in the near future. In fact, ASI reported that while total swag sales dropped by 44% in Q2 2020, it had recovered about 20% of sales in Q3 2020 and a further 8% in Q4 2020. Total product sales for 2020 was USD 20.7 billion.
With the world going remote and people working from home, what swag did we spend all that money on? In 2020, it comes as no surprise that products like hand sanitizers contributed USD 1.4 billion in sales (7%), while other pandemic-related swag like branded cloth masks and other PPE made up USD 4.6 billion in sales (22%).
I believe that companies are becoming more intentional with the swag they give out. Duolingo, for example, worked with SwagUp to create monthly "Interactive Care Packages" for employees during the pandemic to break up the monotony of staying at home. The care packages were designed to get employees out into nature (if possible), equipping them with backpacks and water bottles, as well as instructions for fun activities like a photo scavenger hunt.  
When I asked Swapnil if he thinks the hype and excitement around developer swag will ever die out, he wrote back saying "It's here to stay [and] here's why: Traditional marketing does not work on developers, most of us have ad blockers in place. And so, swag has become the de facto marketing channel for developers."