Thanks to the influx of no-code tools in the market, it is possible for anyone to build an entire website, app, or automated workflow, without ever writing a single line of code.
Sites like No Code, Makerpad and No Code Founders have gained a lot of traction by teaching citizen developers (I promise this is the one and only time I will use this phrase) to turn their ideas into tangible prototypes. No-code tools also benefit people outside the startup space. Many enterprise businesses are switching to no-code solutions to simplify or automate internal workflows and reporting.
For developers, the rise of no-code tools offers a way for them to encourage non-technical team members to create automations and apps that reduce reliance on development, freeing up time and resources for more complex tasks.
To get started, here's a list of top no-code tools based on frequent recommendations on Reddit and Quora, website stats reported by SimilarWeb, and reviews from Capterra, G2 and Trustpilot.
Best No-Code Tools of 2021
Build Websites
The great thing about no-code website builders is that they're already optimized for various screen sizes, and they come with built-in CMS, analytics and basic marketing and e-commerce features.
Squarespace has made it incredibly easy for people to build really good looking websites without a single line of code. While the website builder can be a little finicky to start with, it's easy to manage and update once you get the hang of it. The platform offers various templates for beginners, as well as a suite of marketing tools such as forms, analytics, email marketing and more.
In my opinion, Webflow targets experienced users who want more flexibility and customization. Their layout is reminiscent of design tools like Photoshop and Figma which can be intimidating for beginners. That said, they offer advanced interactions, integrations and plugins that are ideal for designers looking for no-code website builders.
Wix is the ultimate drag and drop website builder and is incredibly beginner friendly. Users can pick from over 500 templates, and easily add design elements to customize their websites. Wix also offers a wide range of built-in tools like email marketing, cart and checkout for e-commerce, appointment scheduling, membership areas and more. The only downside to Wix is the slow loading times that occur when making changes in the backend.
Build Landing Pages
Landing pages are a great way to convert browsers into buyers, especially when these pages are informational and have a clear call to action. To increase ROI on pay-per-click ads, customized and personalized landing pages can drastically improve performance.
Carrd allows people with all skill levels to create landing pages. To start, pick a template and use their simple form builder to create your landing page. You can also embed third-party form builders to your page, payment services, Google Analytics, and a limited selection of third party widgets.
While Carrd offers relatively limited functionality, it still offers everything you need to build a simple landing page, which is great given that its pricing is considerably lower than the other landing page builders listed here.
Created for Enterprise companies, Instapage offers marketers the flexibility to quickly build and publish landing pages at scale. Branded as the go-to landing page builder for ad conversions, marketers with limited coding and design knowledge can optimize their marketing efforts without needing to rely on a web developer.  
Similar to Instapage, Landingi offers a suite of tools that help marketers build and track high converting landing pages. Beyond great design, you can connect it to your CRM to capture and nurture leads, add a payment button to sell products, and conduct A/B tests to continuously improve your page performance.
Build Forms
A form is a great tool for lead capture, gathering user feedback, or running staff surveys. Great form builders are well designed, allow logic jumps, and offer comprehensive reporting for quantitative and qualitative data.
Formstack offers a drag and drop form builder to collect leads and capture information. Users can also create digital documents such as invoices or agreements and collect digital signatures across all devices.
Awarded one of the Fastest Growing Products of 2021 by G2 and Best Ease of Use by Capterra in 2019, SurveySparrow is a diverse form builder that can be used by marketing teams for lead generation, by customer success and product teams to measure customer satisfaction, and even by HR teams to measure employee satisfaction.
Probably one of the most popular form builders out there, Typeform offers more "conversational" forms that "bring your questions to life". Their well-designed forms boast higher completion rates and audience engagement. New users can choose from one of their many templates to get started.
Build Web Apps
No-code web app builders allow users to build almost anything they want without touching a line of code. To add more functions or features, users can easily integrate with other third party apps or connect to multiple data sources.
AppSheet allows users to create web apps and mobile apps by syncing data from a simple spreadsheet (or from more sophisticated data sources), updating data from various devices, and creating customized dashboards and reports. Compared to other no-code tools, AppSheet offers limited design customizations which makes it ideal for beginners.
Bubble was founded in 2012 and is a no-code drag and drop web app builder that is commonly used by entrepreneurs to build MVPs. They have templates to help beginners get started and are connected to over 1,000 third-party tools. At $25 per month per app, it's one of the more affordable ways to get started with your first prototype.
Learn more about Bubble's technical capabilities here >>
Built for software development agencies and enterprise-level companies, Betty Blocks allows users to create frontend or backend web and mobile applications. To get started, teams can install pre-configured app components and share them with everyone in the organization.  
With Jet Admin, build dashboards from various data sources or create simple interfaces for your team to execute repetitive tasks such as issuing refunds or tracking support queries. While it can be used to create consumer-facing solutions, I personally think it's better suited for backend solutions or internal workflows.
Build Mobile Apps
The mobile app builders listed here are by no means the only ones on the market. However, they are the tools with top marks from top review sites like Capterra and G2. One thing these tools have in common is that they make it incredibly simple to create beautiful apps without needing to code.
Adalo offers a user-friendly mobile app builder, allowing users to drag and drop components, connect them to dynamic actions, and sync up with databases. Their Component Marketplace offers users a growing selection of pre-made components that can be mixed and matched to create a unique app. Users can also look up Adalo's development roadmap and request and vote for new components to be developed.
With over 4,000 reviews across G2, Capterra and Trustpilot, plus an average 4.6 star rating, Appy Pie is definitely one of the most popular no-code mobile app builders in the market. The ability to use templates make it the number one choice among small businesses who might not have the resources or time to build an app from scratch.
Bravo was created for designers to build and customize their own mobile apps. Users can first design their app in a tool like Figma or Adobe XD before importing it into Bravo, connecting it to any REST API for data, and publishing it on Google Play or the App Store. To simplify the design process, Bravo Blocks, which are ready-made UI components, can be duplicated and adapted to any project you're working on.
Glide allows users to build an app from a simple spreadsheet. Drag and drop components into place or use one of their many templates to get started. In early 2021, Glide launched a redesigned version of their platform that offers more powerful data management, easier-to-use design tools, and a better way to add actions and automations to your apps.
Internal workflow management and optimization
Here, I highlight various data management and automation tools for personal use, small businesses and even large enterprises. Most tools offer drag and drop interfaces and pre-made templates, making it easier for users both with or without coding experience to get started.
Airtable wants to become your organization's "single source of truth" by connecting and aggregating different data sources to create the perfect database for your team. Users can then configure their views, connect to third-party apps, and use automations to simplify day-to-day workflows and reporting.
As their name suggests, this no-code tool allows companies to connect third-party apps to automate complex workflows and streamline business processes. They can connect to over 200 apps, and users can use a template to get started. On sites like Capterra and G2, Automate.io is highly rated among small businesses, and their customer service team consistently receives positive reviews too!
Integromat offers no-code automation for small- to medium-sized businesses, allowing you to automate workflows between 250 apps. Features that allow users to aggregate data points, send the same data to multiple apps, and create custom flows for errors make it a great option for those wanting to create more complex automations.  
Mulesoft is an Enterprise-grade platform that helps IT teams and business users create automations between third-party apps. With their Anypoint Platform, users can also create, publish, and manage their own APIs, and allow other team members to provide feedback to improve its usability. Tech teams can also reuse existing APIs for other projects, significantly speeding up app development.  
Parabola was created specifically for marketing teams and e-commerce operators to combine data from multiple sources, whether that's your CRM, Google Analytics or e-commerce store, transform it in bulk, and generate automated reports or notifications. Their drag-and-drop visual programming tool makes it easy for non-technical people to automate manual tasks and increase productivity.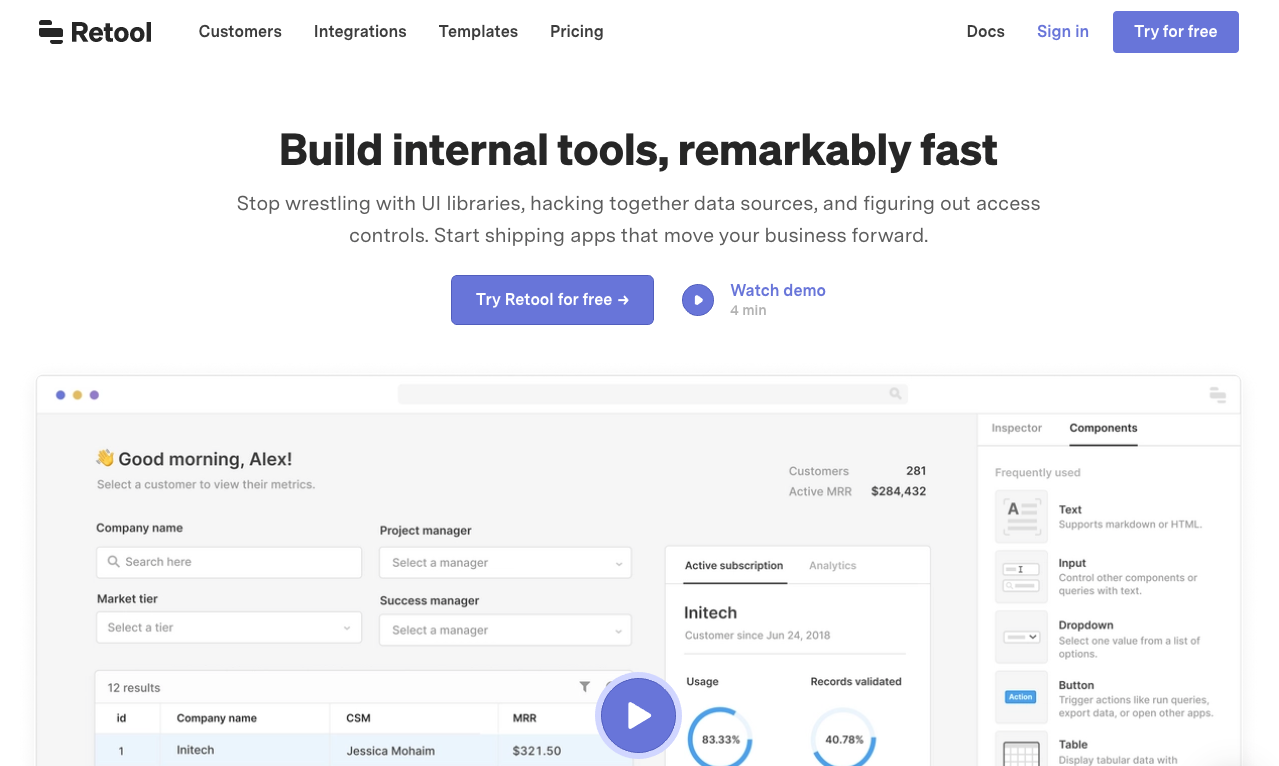 Built with developers in mind, Retool helps users quickly build backend apps and dashboards to simplify workflows. Use one of their many templates to get started, or add UI blocks like tables and drop-downs to your app and configure those blocks to display the information you want.
Zapier is one of the original automation tools. With over 3000 apps available to integrate with, Zapier allows users to create their automations in minutes. Larger companies can opt for Zapier's company plan that offers added security, user and team permissions, and unlimited teams and automations.
Notable mentions
Here is a list of no-code tools that don't fit in a particular category, but have been making waves on social media, popular blogs, Reddit, and ProductHunt.
Notion is the latest note taking/project management/blogging/everything tool to really take off in the last few years. It can be used to create simple blogs or websites (though it's currently difficult to optimize for SEO), track tasks and projects, create internal wikis, develop and share engineering roadmaps, and more. While the platform does not yet offer automations, you can connect to a tool like Zapier or embed information from third-party tools to keep everything in one place.
UserGuiding allows companies to create in-app onboarding flows without the need for code. Since their launch in 2018, they've released other useful features such as in-app messaging, user segmentation, and detailed analytics and reporting.
This no-code tool allows users to create voice and chat bots for mobile apps, Alexa, Google, and even in-car assistants. Their drag and drop interface allows users to visualize conversation flows and create automated prompts and responses based on the appropriate context. Users can also leave comments in-app, shortening feedback loops and simplifying collaboration.
Should dev teams consider no-code solutions?
When it comes to choosing between no-code or code-it-in-house, here are some pros and cons to consider.
Pros of using no-code tools
1. Shorten time to market
No-code tools have become incredibly user-friendly and quick to deploy. If you want to quickly test out an idea or develop an MVP, no-code tools are the way to go. Instead of reshuffling your product roadmap to accommodate a new feature or app, product managers or developers with a couple of spare hours can pick up the project and create a functional and beautifully designed MVP.
2. Empower non-technical teammates
There have been many instances where marketing, sales and customer success projects have been stalled because they needed someone from engineering to help build out a dashboard or retrieve specific data. With no-code tools, engineering teams can help set the groundwork (for instance connecting multiple streams of data to the tool), and then let their non-technical teammates build out dashboards, reports and automated workflows on their own.
3. Great for internal workflows
Apart from automating repetitive tasks, no-code tools can also help you create workflows that mirror how your team already works. Instead of retraining your team on new tools, simply connect existing tools together to create workflows just for you.
Need to report on specific KPIs at every standup? Create a workflow that pulls that report and have it sent to your inbox before you start work. Need to sync up data between different teams? Create another workflow that syncs that data to the platform of your choice. It can take as little as 10 minutes to set up a workflow, which could save you hours in the future.
4. Most no-code tools are multi-device
The best part about no-code tools is that they're almost always optimized for multiple devices. App builders like Glide and AppSheet can be used on mobile and desktop, taking away the need for you to fiddle with additional settings or code.
5. Easily scale your app or platform
Tools like Mulesoft and Webflow let users duplicate existing assets and adapt them to new projects, eliminating the need to build everything from scratch, again. If you're a software provider that offers white label solutions with a little bit of customization, then this could be a great time saver for you and your team.
6. It's someone else's job to debug and update the code
No-code platforms are responsible for the code, not you. This means that they're also responsible for maintaining and debugging the code.
Cons of using no-code tools
1. Steep learning curve for beginners
While most no-code tools are incredibly user friendly–with drag-and-drop interfaces, extensive resource libraries, and great support teams–beginners might still struggle with the initial learning curve.  
For instance, to build an app, you need to have a very clear understanding of the user requirements. What will this app do? And where will it get the information to execute what you want it to do?
App building tools also require a basic understanding of database structures and basic queries. Even simple tools like AppSheet and Glide require users to know their way around a spreadsheet.
That said, it's much easier to pull together bits and pieces of working knowledge than learning how to code from scratch.

2. Security and compliance
Data security is one of the biggest concerns when it comes to using no-code solutions, which is why most tools offer some form of user permission and identity verification to control who has access to what.
However, for companies dealing with sensitive consumer data, extra attention needs to be paid to user access. Beyond the typical controls of viewing, editing and sharing data, other mechanisms such as auditing for logins and re-shares, or auto-expiring access to certain datasets or features, should also be considered.
While we're on the topic of data security, here's a gentle reminder to check that your no-code tool of choice also complies with any industry standards and regulations. For example, health and medical companies need to be HIPAA compliant when processing patient data. Marketing teams also need to be GDPR compliant when processing user data. Finance companies need to comply with local laws and regulations too.  
3. Ownership of source code
When building with no-code tools, know that you do not own the source code. While this might not be an issue in most circumstances, things can get tricky if you want to export or migrate your assets. As Shannon England puts it:
"Any chance at properly maintaining your application in the future rests with your dependence on the original vendor. Even if the no-code vendor makes your source code accessible, what you'll likely discover under the hood of your application is a black box of tangled and unmaintainable computer nonsense, lacking any clear documentation. In turn, you can have a complete understanding of what goes in and comes out of your application, yet the entire implementation remains hidden and locked."
4. Limited customizations
Offering templates and pre-built components can really help novice creators get started, but the same templates and pre-built components can be rather limiting for experienced developers.
That said, this is a trade-off you might choose in effort to free up time and resources that are better spent on other things.
Developers in a no-code world
In a previous article I wrote about developer salaries, I concluded with the idea that most low-level coding jobs will become obsolete due to the rise of no-code solutions. In another article, I noted that entry-level developers today require much more than "just a little bit of code" to get their foot in the door.
That said, it is important to note that developers and engineers will always have a place in tech, even with the exponential growth in no-code and even low-code tools. The idea that no-code tools will displace developers and engineers completely is simply untrue.
As one Redditer put it, "A programmer's job is to codify all those details about reality into something the computer can do efficiently and safely."
References