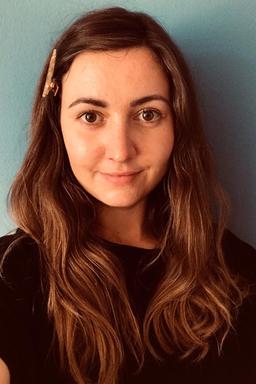 Tracy Phillips
CodeSubmit Team
The Ultimate List of Remote Work Statistics [September 2022]
Looking for trusted statistics all about remote work? This article is for you.
The world of work as we know it has changed dramatically in the past few years thanks to two words: remote work. Remote work has evolved the employment landscape globally and in 2022, it is growing in popularity more than ever.
Remote work gained significant global traction in recent years due to the COVID-19 pandemic, but also due to a multitude of other factors. If you are curious to understand remote work through statistics, you're in the right place.
We did the research and compiled the ultimate list of remote work statistics in 2022. This stats list shares the top remote work statistics and helps explain its popularity, why people are choosing to (or not!) work remotely, and what companies are doing about it.
Ready to run through 37 remote work statistics? Let's go!
Top remote work statistics in 2022
16% of companies worldwide are fully remote
62% of US workers between 22-65 say they work from home at least occasionally
75% of global workers believe remote working is the new normal
Remote work has grown 91% over the past 10 years
Remote work has increased by 44% in the past 5 years
52% of workers worked from home at least once a week prior to the pandemic
97% of employees want their work to be at least partially remote in the future
74% of professionals expect remote working to become the new normal
Benefits of remote work
1. 77% of workers report greater productivity while working offsite
(CoSo Cloud)
Many might think that working remotely means slacking off and skimping on projects, but that couldn't be further from the truth. A study revealed that of those who worked remotely at least a few times per month, 77% reported greater productivity. To break that down, 30% of workers were able to accomplish more in less time and 24% accomplished more in the same amount of time.
2. Remote workers are more productive with 68% experiencing fewer interruptions than in an office
(FlexJobs)
Employees have proved that working remotely can be more productive than working in an office. Why? The reasons for increased productivity include fewer interruptions (68%), more focus (63%), quieter environments (68%), and more comfortable workplaces (66%). Meanwhile, 55% of survey respondents said avoiding office politics was a contributor.
3. 88% of employees are happier being able to work from home
(Owl Labs)
Are people much happier working remotely? Absolutely. In a study, 88% said they were "happier" being able to work from home at least some of the time post-pandemic. 86% said they would better be able to support their families, 83% would improve their work-life balance, and 82% believe it's better for their mental health overall.
4. Over half (55%) of those working remotely report reduced stress
(CoSo Cloud)
Another benefit of working from home may be less stress (for some). Over half (53%) report reduced stress, 51% spend more time with significant others, and 44% have a more positive attitude. Remote work is also making employees healthier; 45% claim to get more sleep, 42% are eating healthier, and 35% are getting more physical exercise.
5. 70% claim a fully remote job would considerably improve mental health
(FlexJobs)
FlexJobs' 10th Annual Survey discovered that 70% of respondents think having a permanent remote position would have considerable improvement and a positive impact on their mental health. During the pandemic, nearly 1 in 5 (18%) employees reported that their companies were not offering mental health support and that not doing so was their biggest mistake.
6. Companies that allow remote work experience 25% less employee turnover
(PR Newswire - Owl Labs)
A survey of 1,097 U.S. employees found that companies that allow remote work undergo 25% lower employee turnover than those that don't. One large reason is that over half (51%) of employees who choose to work remotely do so to improve their work-life balance. Additionally, companies without a corporate headquarters were found to hire 33% faster than others.
7. Nine in 10 remote workers want to maintain some remote work
(Gallup)
People don't like working remotely—they love it! Going forward, 91% of U.S. workers that spend at least some time working from home "hope their ability to work at home persists." 41% of employees with white collar jobs reported working from home exclusively, while 26% did some of the time.
8. 54% of remote workers would ideally prefer a hybrid work model
(Gallup)
Hybrid work is the most preferred method according to a study of more than 9,000 American workers. Over half (54%) of those currently working remotely (at least some of the time) would like to split their work days between home and an office. Just 37% would like to work from home exclusively, while 9% hope to return to the office full time.
9. 87% of job candidates think an employer offering work location flexibility is "very important"
(Owl Labs)
If you're wondering what job candidates are looking for in potential employers, you guessed it: remote work. 87% consider the flexibility in where they work to be very important. Meanwhile, 79% think it's very important that employers take it a step further to offer WFA, or work from anywhere. An overwhelming 91% also think when they are expected to work is very important.
10. 79% of employees would be more loyal to their companies if they offered flexible work options
(FlexJobs)
Employees who get flexible work options are more loyal to their employers—and that loyalty is quickly reversible. In a large survey, 44% say they know at least one person who has quit or is planning to because they are being forced to return to the office. Considering 90% of senior executives now expect to work from home, one can't blame lower-level employees for feeling the same way and wishing to stay put.
11. 21% of employees would give up vacation time to work remotely
(FlexJobs)
Working remotely is so beneficial to employees that they would make sacrifices to keep this work style going. Almost one-quarter of workers (24%) would take a 10-20% pay cut to continue working remotely, and 21% would happily sacrifice vacation time for the flexibility of working from home.
12. 83% of workers around the world would decline a job because it didn't offer flexible working
(IWG)
A majority of workers from around the world agree that a flexible work environment or the option to work remotely is vital to choosing a job. Over half (54%) of workers think that having their choice of work location is more important than working for a prestigious employer, and 28% think it's more important than an increase in vacation time.
Global remote work statistics
13. 75% of global workers think flexible working is the new normal
(IWG)
According to a survey of 15,000 respondents sourced from 80 countries, three-quarters believe remote work is the new norm. In the past 10 years, 85% of businesses have introduced a flexible workplace policy. A large reason for this shift is that businesses are losing top talent by not offering remote work options.
14. 16% of companies worldwide are fully remote
(Owl Labs)
Regardless of remote employees, a study found that only 16% of companies globally are fully remote. Of course, not all businesses can accommodate remote work, so 44% of companies do not allow any sort of remote work.
15. 62% of employees (aged 22 to 65) worldwide occasionally work remotely
(Owl Labs)
A substantial 62% of workers worldwide (aged 22 to 65) report working remotely at least sometimes. As the pandemic winds down, about 60% of those who were working remotely during COVID have returned to work in the office at some point in the past six months.
16. Only 9% of companies in Asia allow employees to work from home
(NorthOne)
When you look at remote work on a global scale, it changes drastically from country to country. Less than one-tenth of those working in Asia are able to do so from home. Meanwhile, Africa and Australia have embraced remote work, like the United States, extending remote or hybrid work options to about 59% - 65% of workers.
What percentage of the world is working remotely?
17. By the end of 2022, 25% of all professional jobs in North America will be remote
(Forbes)
What percentage of the workforce is remote now, in 2022? Data scientists at Ladders concluded that by the end of this year, one quarter (25%) of all professional jobs throughout North America will be remote. In 2023, predictions indicate this percentage will only increase.
18. 4.7 million U.S. employees work remotely at least half the time
(Owl Labs)
The United States is a vast country with a great labor force. In February 2020, right before the COVID-19 pandemic broke loose, the U.S. labor force reached an estimated 164.6 million people. Of these, only 3.9 million Americans were working from home. Today, nearly 5 million workers are able to work from home at least 50% of the time, a significant increase since pre-pandemic times.
19. The United States workforce is almost 60% remote
(NorthOne)
A study conducted one year into the pandemic found that 58.6% of the American workforce population were able to work remotely, at least sometimes. Meanwhile, 41% were working fully remote. That is a 17% increase from the number of U.S. employees that worked fully remote, pre-pandemic.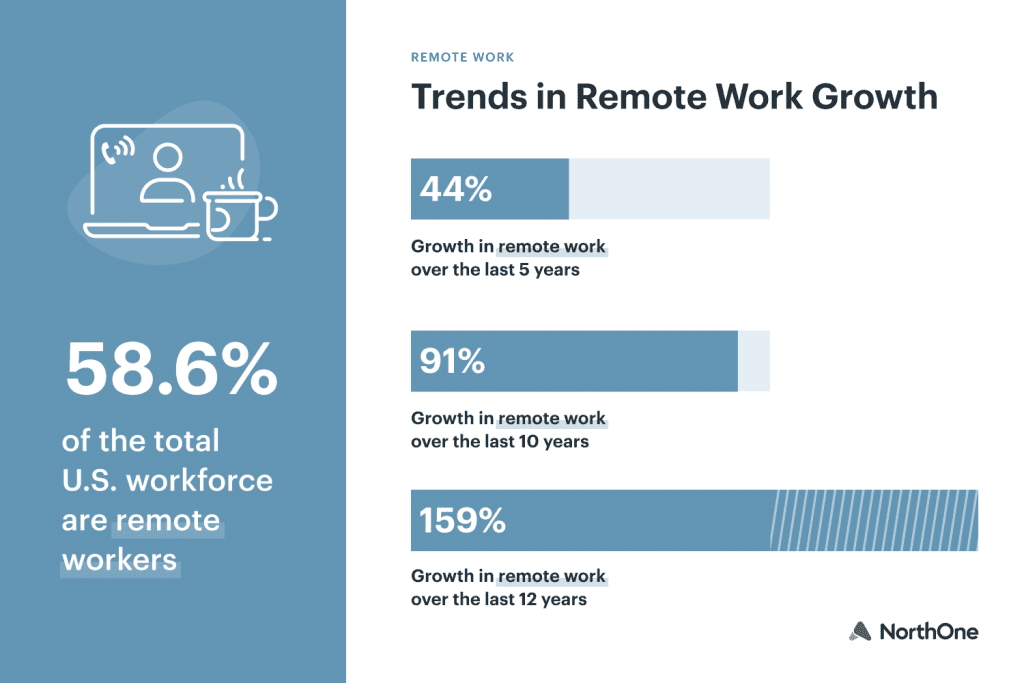 20. It's estimated that 56% of W2 employees could work remotely IF their employers were okay with it
(Global Workplace Analytics)
How many employees could work remotely? The majority, according to a study from Global Workplace Analytics. They estimate that 56% of W2 employees have a job where at least a portion of work could be performed remotely. A W2 employee is a salaried employee, unlike independent contractors or freelancers who may own their own business and determine their own work schedule. W2 employees follow work according to the businesses' rules and consequently, have less authority in determining their own remote work practices.
21. Almost one in four Americans will work remotely by 2025
(Upwork)
According to the hiring habits of over 1,000 hiring managers within the United States, predictions indicate that 22%, almost one in four, of the American workforce will be remote by 2025. That hypothesis indicates that nearly 36.2 million Americans should plan to work remotely. That's an 87% increase from pre-pandemic predictions.
22. Almost 86% of hiring managers believe dynamic teams of remote workers are the future
(TECLA)
Six out of seven hiring managers think the new norm is all about dynamic teams, or those that are composed of remote workers. They're on to something considering that over half (53%) of companies today leverage flexible workers, like freelancers or temporary staff.
How much has remote work increased?
23. From 2005-2017, remote work in the U.S. increased by 159%
(FlexJobs)
The decade leading up to the pandemic showed significant growth for remote opportunities. Remote work increased 159% over the span of 12 years, proving that companies are adopting hybrid or flexible models. In May 2021, a study found that 70% of companies were planning on rolling out some sort of hybrid/remote option for workers.
24. Remote work has experienced 44% growth over the past 5 years
(NorthOne)
Remote work as a whole has grown 44% over the past 5 years. What are some reasons that remote work has exploded? Besides the pandemic and improvements in work-life balance and overall employee happiness that we mentioned earlier, the average remote worker makes 8.3% more than non-remote workers, despite having the same job title and qualifications. It will be interesting to see if this trend continues, or if employees instead opt to take lower salaries for higher remote work flexibility.
25. Experts believe remote work has grown 91% over the past decade
(Global Workplace Analytics)
In the past 10 years, remote work has experienced an astounding 91% explosion in growth. Whether it was a result of COVID or was bound to happen, either way, regular telecommuting increased a drastic 216% from 2005 to 2019. That's 11 times faster than the rest of the workforce, which only grew 20% in the same timeframe. Meanwhile, self-employed individuals grew by 54% in the same time span.
Remote work statistics before and after covid
26. Remote, high-paying jobs leaped from 4% pre-COVID to over 15% today
(Forbes)
Based on a study from Ladders tracking 50,000 employers across North America, high-paying remote jobs used to be scarce. Pre-pandemic, about 4% of high-paying jobs were remote. By the end of 2020, this number nearly doubled to 9%. Today, in 2022, more than 15% of high-paying positions are remote, proving that companies are making changes to recruit top talent.
27. During COVID-19, almost 70% of full-time workers did so from home compared to 92% of people who expect to continue at-home work part-time
(Owl Labs)
A study revealed that close to 70% of those working full-time during the pandemic were working from their homes. Post-pandemic, 92% of these full-time workers expect to be able to work from home at least one day per week, while 80% expect the flexibility to continue working from home at least 3 days per week.
28. More than 8 in 10 workers want to work remotely at least 1+ day per week after the pandemic is over
(NorthOne)
A study showed that 82% of workers want to continue working a minimum of one day per week remotely after COVID-19 finally blows over. However, there is a flip side. 20% of remote workers report struggling with loneliness or isolation. Taking both perspectives into account, hybrid models seem to be a compelling solution.
29. Pre-COVID, 52% of workers worked from home at least once per week
(Owl Labs)
The COVID pandemic encouraged many employees to transition to at-home working environments, but it's important to note that many were doing so before. Before the COVID outbreak, 52% of workers reported having at least one day free to work from home each week. As the pandemic slows down, over 50% of workers are still working from home.
30. Post-COVID, 80% of workers are expected to work from home at least three days per week
(Owl Labs)
Even though the pandemic is slowing down and people are returning to life as it was, people are still working from home. Many want to, yes, but many workers are now also expected to. Today, 80% of workers report being expected to work from home at least three days per week.
31. 82% of company leaders plan to let employees work remotely sometimes
(Gartner)
A survey studying 127 company leaders from the HR, Legal, Finance, and Real Estate industries revealed that 82% intend to allow remote working some of the time in combination with a return to the office in 2022. Nearly half (47%) plan to let employees stay fully remote. For the majority, "flex time" is the new norm, as 43% will grant employees flex days, and 42% will permit flex hours.
32. 97% of workers want some kind of work arrangement that is at least partially remote
(FlexJobs)
The overwhelming majority of employees surveyed want a work arrangement that includes at least some remote options. 58% reported that they want a fully remote job. Meanwhile, 39% said they prefer a hybrid work arrangement. That leaves only 3% of workers who want to return to an office full-time.
Will remote working die?
33. 31% of remote workers have no struggles working remotely
(Buffer)
A 2022 study shows that almost one-third of those working remotely report no struggles doing so. However, a significant portion of workers admit to facing obstacles. 25% admit not being able to unplug, 24% feel lonely, and 21% struggle to stay motivated. Other common remote work obstacles include working across time zones (21%) and experiencing difficulty focusing (21%).
34. 44% of companies don't allow any kind of remote work
(Owl Labs)
Remote working can't die for those who never got to experience it in the first place. Globally, almost half of companies (44%) don't—or can't—offer any kind of remote work. And, of all of the companies who do allow remote work, only 20-25% help pay to set up a home office by providing office equipment and furnishings.
35. 81.5% of workers feel more empowered to hold leaders accountable for offering a better workplace in 2022
(Forbes)
If COVID taught employees anything, it's that happiness at work is important. And it's largely the responsibility of workplace leaders to ensure it. About 82% of workers feel more empowered to hold their bosses accountable to make a change for the better. Over half of these workers (56%) even said they would only wait 30-60 days for any suggested changes to take action. Otherwise, they would consider leaving their jobs.
36. 74% of professionals expect remote work to become the normal method of working in the future
(Forbes)
Almost three-quarters of professionals think remote work is the future. This belief is also held by 76% of entrepreneurs, indicating that companies should lean into the idea of workplace flexibility. Large enterprises, like Twitter, Slack, and SalesForces have already announced new hybrid work plans.
37. 22% of workers will still be working fully remotely by 2025
(Owl Labs)
So, is remote work dying? No, it doesn't look like it. Predictions indicate that almost a quarter of those working fully remote will continue to do so through 2025. This is an 87% increase from pre-pandemic numbers.
Conclusion
There it is! You just read 37 remote work statistics of 2022 explaining the state of the industry and the global scene as we know it. As far as these facts and figures are concerned, remote work is here to stay and organizations that want to continue attracting the best talent need to adapt.
Sources:
Further reading:
CodePair Interview: A Guide to Remote Interviews (2022)
Hybrid Workplace Statistics: Ultimate List for 2022
Build and Manage Thriving Virtual Teams: 5 Strategies to Try Today