What are the most important hybrid workplace statistics?
Hybrid workplaces are here to stay. But how many workplaces will be hybrid? How productive are they? And what do employers and employees think about them?
Here are 56 hybrid workplace statistics you need to know.
Top Hybrid Workplace Statistics
A hybrid workplace is a workplace where employees work part of the time in the office and part of the time remotely. Alternatively, some teams might work in the office and some remotely. Either way, these statistics show that employees and employers want to keep a hybrid model. And a hybrid workplace makes sense from a business perspective -- employees tend to be more productive when they're given the chance to work from home.
The number of salaried workers working from home is expected to rise from 10% (pre-pandemic levels) to 30%.
The thing is: remote work is more productive. When workers work remotely, their productivity increases by 13%. Employees also feel happier and tend to stay longer at their current workplaces.
63% of high-growth companies have implemented productivity anywhere workforce models.
Hybrid workplaces can have a big impact on the economy. Work-from-home could increase productivity in the US by 5%.
It seems that employers are taking note. 68% of executives are planning on implementing some kind of hybrid workplace model.
And 83% of employers say that remote work has been productive for them.
At the same time, 83% of workers prefer a hybrid model.
55% want to work remotely at least 3 days a week.
Only 20.3% of workers never want to work from home.
Hybrid workplace statistics overview
First, let's take a look at what hybrid work looks like right now. How many organizations are turning to a hybrid model? Is it just a fad or is the hybrid workplace here to stay? These statistics show you the facts.
Covid-19 has changed a lot for businesses. Before the pandemic, only 25% of salaried workers in the US worked at home occasionally and 15% had days they only worked at home.
However, pre-pandemic, 37% had jobs that could be performed remotely.
While 10% of the workforce had at least one day when they worked from home pre-pandemic, that number is now expected to rise to 30%.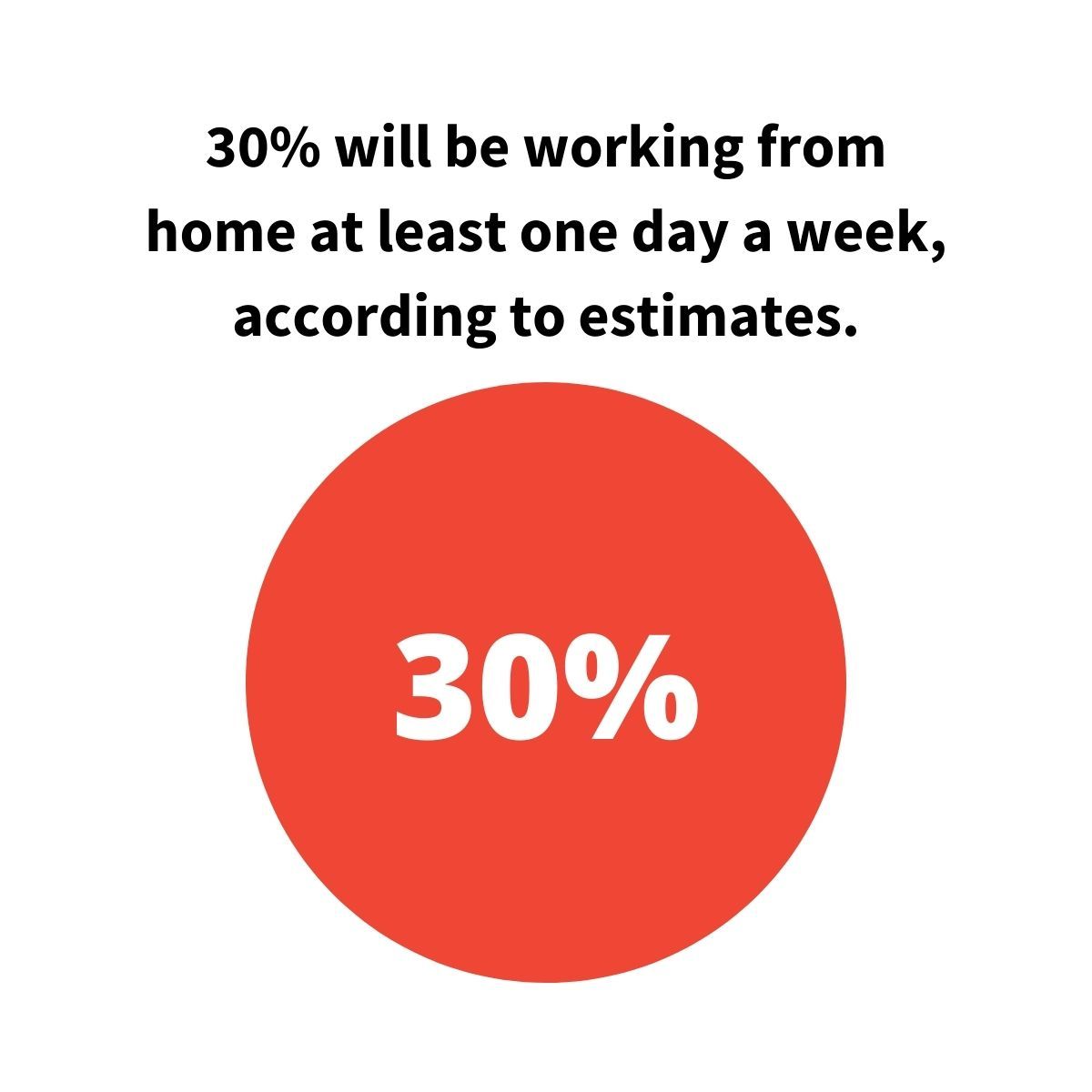 Organizations that are planning to implement a hybrid strategy are 4.5 times more likely to expect a reduction in space by more than 10%.
45% of organizations are planning to reduce travel expenses by 50-74% and 30% plan to reduce them by 75-100%.
According to a Pew Research report, 20% of American workers worked from home prior to the pandemic. This jumped to 71% during the pandemic.
9% of employees relocated during the pandemic, which means that they might not be able to return to the office.
(US Bureau of Labour Statistics, University of Chicago, Federal Reserve Bank of Atlanta, Deloitte, Pew Research, Salary.com)
Hybrid workplace productivity statistics
Does a hybrid workplace increase productivity? Research points to the fact that it does. Workers tend to feel and be more productive, feel happier, and be more loyal to their employers.
According to PwC's survey of 133 executives, 83% of employers say that a shift to remote work has been productive for them.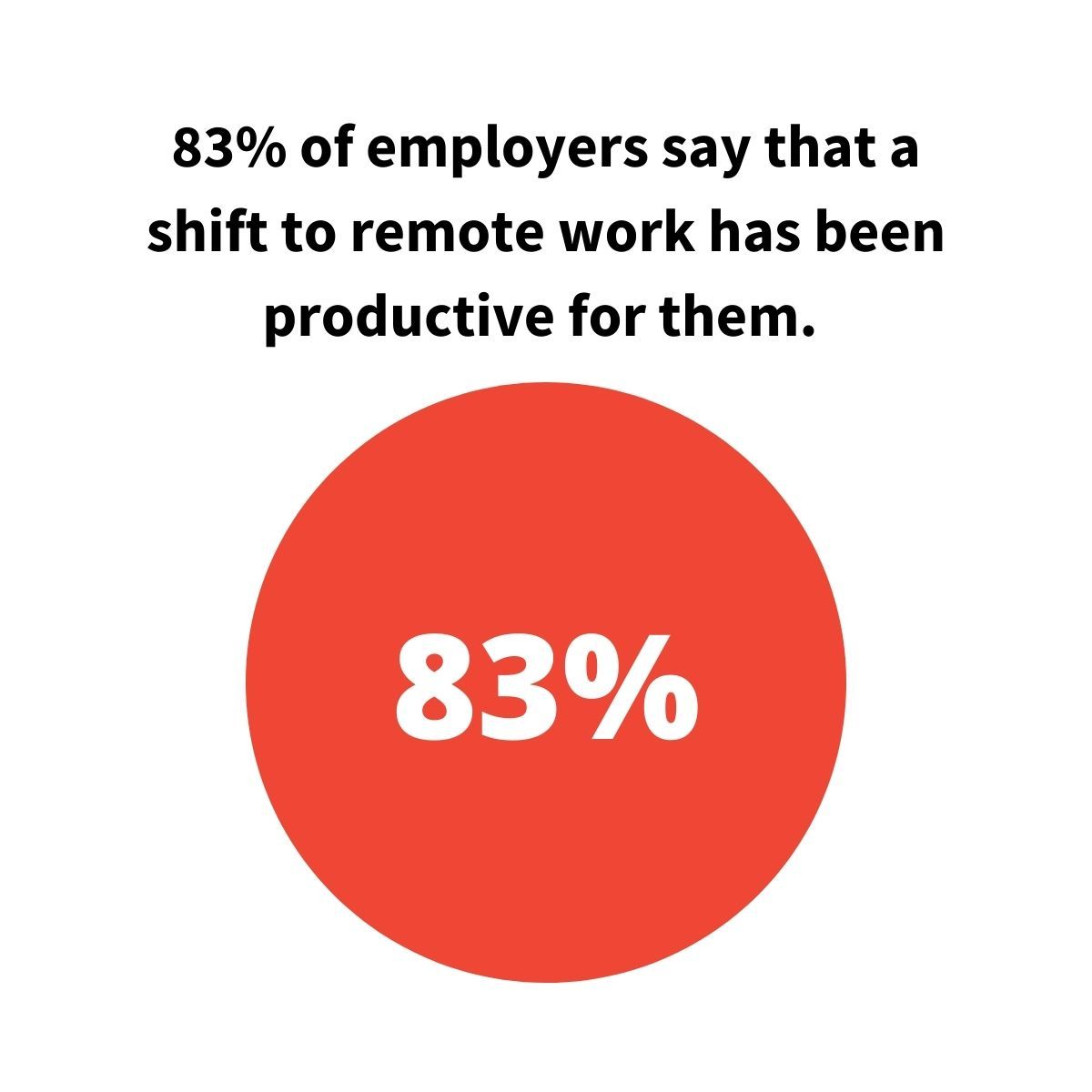 McKinsey reports that 58% of executives think that remote work has improved individual employee productivity. 54% said that it had improved workplace diversity and inclusion, 45% that employee engagement had increased, and 36% reported that customer satisfaction had improved.
63% of high-growth organizations have enabled productivity anywhere workforce models.
On the other hand, 69% of negative or no-growth companies are still focused on where people are going to physically work (either onsite or remote, rather than a hybrid model).
85% of people who say they can be productive everywhere said they were going to stay with their organization for a long time.
40% of workers said they can be productive anywhere (onsite or remote). Accenture found that this was due to their access to resources. These are autonomy, positive mental health, high degree of digital skills, health policies, supportive leadership, and digital maturity.
Research shows that a mix between in-person work at the office and remote days is the key to productivity. A Stanford study of 16,000 office workers showed a 13% increase in productivity when workers worked remotely. Employee quit rates dropped by 50%. Home workers also reported improved work satisfaction.
Another survey of 30,000 workers from March 2020 to March 2021 shows that 6/10 workers report that they are more productive from home than they expected to be. On average, workers' productivity was 7% higher than they expected.
40% of workers say they were more productive at home than in the office. 15% said that they were more unproductive at home.
According to The Economist, 36% feel more focused when they work from home. 28% feel less focused.
Work-from-home will increase worker productivity in the US by 5%.
A PwC report shows that if companies in the Netherlands would make just one day remote, the net benefit would be €3.9 billion annually ($4.5 billion), mainly thanks to cost savings.
In offices, the biggest disruption to workers' focus is face-to-face interruptions from colleagues (34%). 29% lose focus because they're reading and responding to email and 23% get distracted by office distractions. 23% say it's because their mind wanders, 21% because of meetings, 20% say the problem is technical difficulties, and 11% because of non-work or personal activities.
The biggest distraction when working from home is the temptation to relax (28%). Other distractors are household-related chores (25%), demands from family, pets, or roommates (22%), discomfort with their physical home working space (13%), and the inability to find a quiet space (12%).
The biggest remote barriers are:
- Feeling disconnected from colleagues (24%)
- Lack of proper tools to do their job (18%)
- Lack of stable or secure internet connection (14%)
- Lack of feeling the office "buzz" (13%)
- Increasing reliance on chat tools for work (12%)
(Accenture, McKinsey, Quarterly Journal of Economics, Chicago Booth Review, Economist)
Employer hybrid workplace statistics
Work is changing. Employees have gotten a taste for remote work and as we'll see below, many of them want to alternate remote and in-person work. But are decision-makers at organizations going to allow their staff to work some days at home? Here's what you need to know.
According to McKinsey, nine out of 10 employers say they will allow some hybrid scheduling in the future.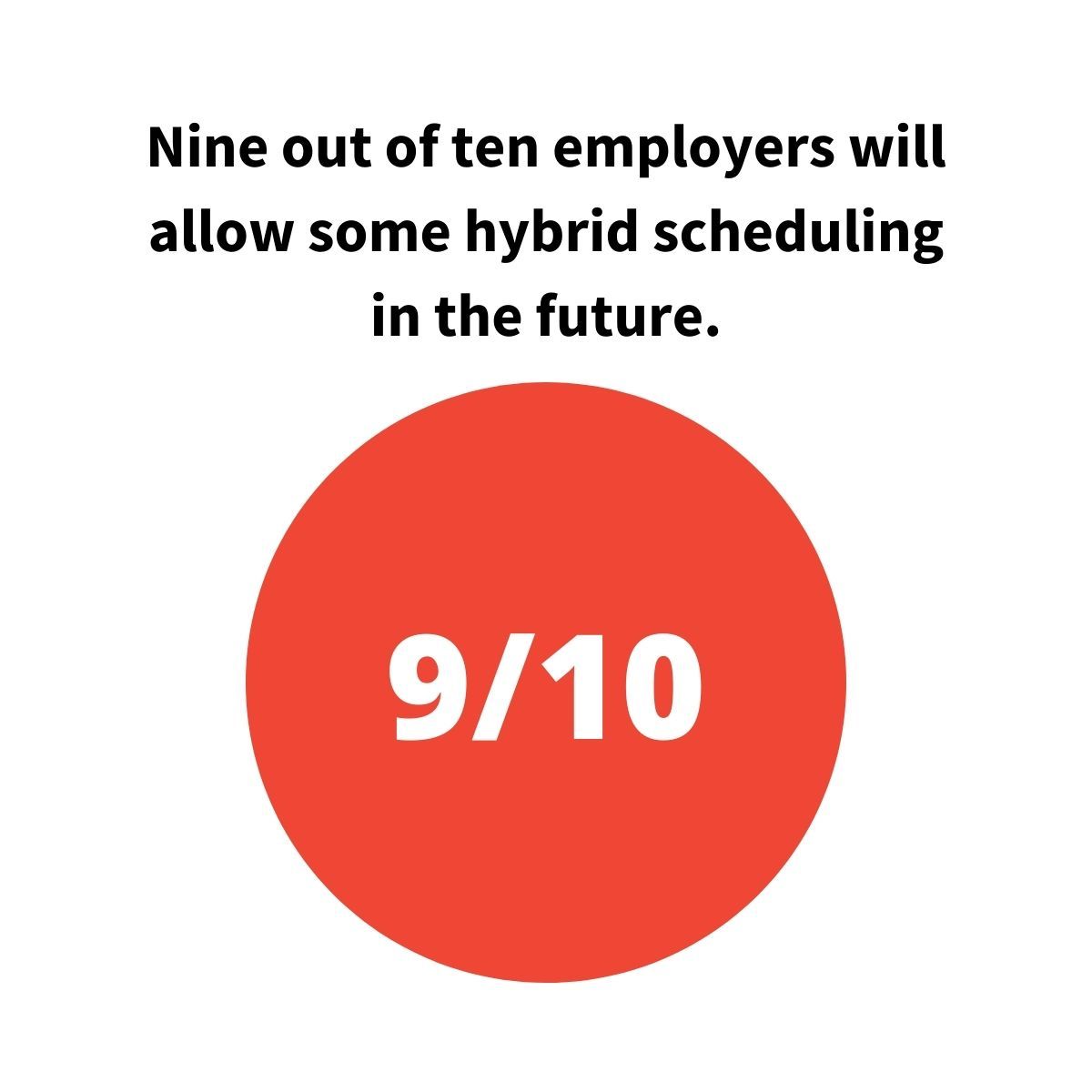 Fewer than one in five executives say that they want to return to the office as it was pre-pandemic.
87% see the office as an important place to foster collaboration and build relationships.
Only 13% plan on ditching the office for good.
68% of executives said that employees should be at the office at least three days a week to maintain a distinct company culture. 65% say that offices are very important to increase employee productivity. Over half see offices as important for employee collaboration.
87% of executives expect to change their real estate strategy over the next 12 months. However, they aren't necessarily going to reduce office space; 56% plan on increasing it. This might indicate that they are planning on facilitating remote work in new ways, for example by opening satellite offices.
Over 60% expect to raise spending on virtual collaboration tools and manager training, while half plan to invest more in areas that support hybrid work models, such as communal space in the office (48%) and hoteling apps (50%).
A Deloitte survey of 275 executives shows that 68% plan on implementing some kind of hybrid model.
21% are going to go back to a physical workplace and 1% will remain fully virtual.
The biggest concerns employers have with a hybrid workplace are:
- Maintaining culture (32%)
- Maintaining high performance (26%)
- Collaborating effectively (19%)
- Maintaining fairness (13%)
- Employees who don't want to return in person (10%)
66% of business decision-makers are considering redesigning physical spaces to better accommodate hybrid work environments.
92% of employers don't have a system in place to determine compensation for employees who work remotely only part of the time.
97% of employers say they won't reduce pay for partially remote employees. But 21% would adjust salaries based on the employee's location, contribution, and to protect company culture.
In November 2020, 22% of US executives saw it as a priority to bring workers back to the office. Only 5% of respondents from Canada, China, Germany, and Japan said the same.
(Accenture, McKinsey, Deloitte, Microsoft, Salary.com, The Conference Board)
Employee hybrid workplace statistics
Do employees want a hybrid workplace? Thanks to the pandemic, many now have seen first-hand what it would mean for them to work at home. Here's what workers say about the possibility of working at least part of the time at home.
72% of workers who worked from home during the pandemic say that their companies will have more flexible work-from-home policies after the pandemic.
According to an Accenture survey of 9,000 workers, 83% prefer a hybrid model.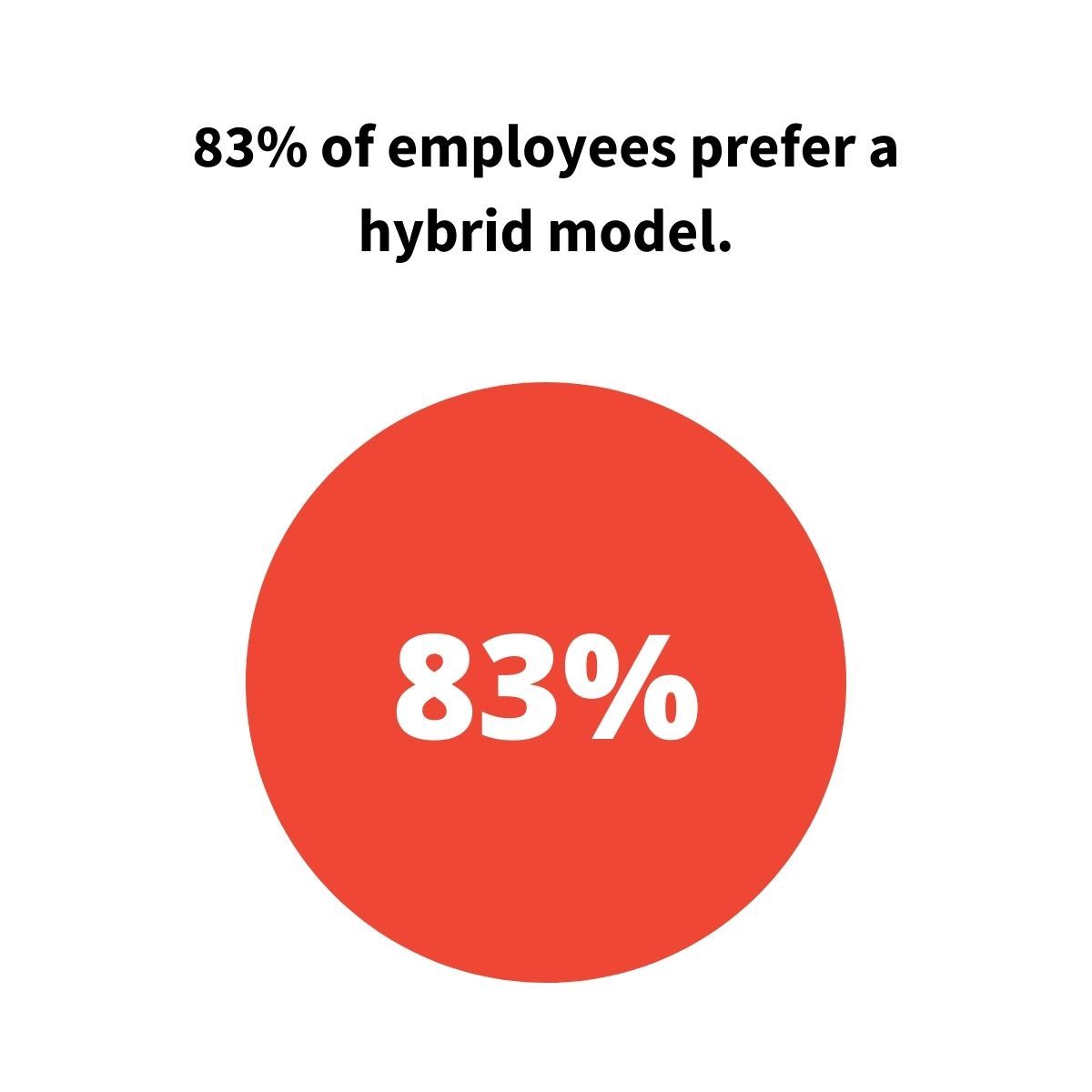 A SurveyMonkey poll of 1,560 respondents puts this number at 65%. 33% of them prefer to work mostly from home and 32% mostly from the office.
A Microsoft study of more than 30,000 people from 31 countries shows that employees want both in-person interaction and flexibility. 65% say that they want more in-person time with their teams, while 70% say that they want flexible remote work options.
A Prudential survey shows that 87% of workers want to work from home at least one day a week.
68% say that the ability to work on-site and remotely is the perfect workplace model.
According to The Economist, 58% want more remote options.
According to a Stanford survey of 2,500 US residents, 55% want a mix of office and home time. 20.3% never want to work from home and 24.2% want to work from home all the time.
55% of workers report that they wanted to continue working from home after the pandemic for at least three days a week, according to Pew Research.
Those workers with the least amount of experience (0-5 years) are more likely to prefer to be at the office than more senior workers. 30% of them want to be remote no more than one day a week, while the same number is 20% for other workers.
Junior employees also tend to feel less productive when they're working remotely (34% vs. 23%).
24% of technology workers would prefer to work fully from home.
94% of employees say that their salaries should be based on their skill set and not their location.
83% say that they will leave a company if they are compensated differently for working remotely.
One in three (33%) say that they would quit their jobs if they aren't allowed to work remotely at least part of the time.
56% of people who worked from home during the pandemic say that they want to attend large meetings virtually from home. 42% want to attend large group meetings in person and 41% want to attend them from home.
44% want to work in small groups on projects from home and 43% want to meet one-on-one with their supervisor from home.
The top benefits of working from home are a flexible schedule (32%) and not having to commute (22%).
However, 27% find it difficult to unplug when they work from home. 16% have trouble collaborating, 16% feel lonely, 15% have problems with distractions at home, and 12% feel they don't stay motivated.
And 39% of workers are concerned that their relationships with coworkers will suffer from a hybrid workplace model. 21% think that they might not have as many opportunities for career advancement and 16% are worried that their productivity will suffer.
(SurveyMonkey, Accenture, Microsoft, Prudential, Stanford, Pew Research, Salary.com, Robert Half, Buffer)
Over to you!
There you have it! Now you know what the most important hybrid workplace statistics are.
Are you going to use a hybrid workplace model?
I hope these statistics will help. Contact us if you have anything to add!