Who would have thought that after two decades, an operating system called Android would rise to its current popularity?
According to Business of Apps, Android has 2.5 billion users in 190 countries worldwide on their phones, tablets, and other devices. The journey to reach global adoption has been both eventful and marked by rivalry.
We put together an article that outlines the history of Android, from its inception to its global takeover. We also look at the Android ecosystem, how the operating system has dominated over the years, and even its impact on the smartphone industry.
If you're curious about the journey, keep reading!
How did Android start?
For such a well-known operating system, it might be surprising to know that Android had a bit of a stealthy start back in 2003. At the time, little was known about what the company was all about or where it was headed.
In Palo Alto, California, four founders came together to form the early team. This included Andy Rubin, Chris White, Nick Sears, and Rich Miner.
Originally, the company vision didn't include phones. Andy Rubin shared in a 2013 speech that the plan for Android was to develop a smart operating system (OS) for digital cameras. Android would serve as a camera platform that would store photos and videos. However, when pitching investors in 2004, the team realized interest was low and the camera market was too small.
From there, the team made a major pivot to the smartphone sector. Major rivals at the time were Blackberry, Palm OS, webOS, Windows Mobile, and Symbian. While rivals were charging for their software, Android decided to approach the industry a little differently. Their vision was to create a free platform that would sell other services, apps, and games. In this way, the team felt it would be easier to grow and partner with phone makers.
Android had set their big vision in motion. Now we'll explore Google entering the picture.
Google Comes Knocking
Keeping true to its low-key origin story, Android was quietly acquired by Google in 2005. While the amount was undisclosed, those familiar with the matter estimate the purchasing price at around $50 million.
Google also hired Andy Rubin as the senior vice president of mobile and digital content.
The vice president of corporate development, David Lawee, shared in a Stanford Accel Symposium that acquiring Android was Google's "best deal ever." Interestingly, however, Lawee had initially expressed some skepticism.
Speaking about Rubin, Lawee shares:
"I saw this guy in my building for two years, walking his dog, and I was like, I hope this guy does something."
The deal and efforts in development would pay off. Rubin would continue to work with Google in a committed journey together in creating an open source OS.
Early Development & Launches
While iPhone had its debut in 2007, Android was operating in stealth mode, building out an early beta version for developers. This public beta would later launch on November 5th, 2007.
Around this same time, the design for the Android logo surfaced. The iconic green robot design was created by Irina Blok. The design was intended to represent Android's target audience at the time - developers. Interestingly, the logo was never officially presented as a concept. Instead, it became a viral movement within Google, where everyone put their own unique spin on the robot with different themes and designs.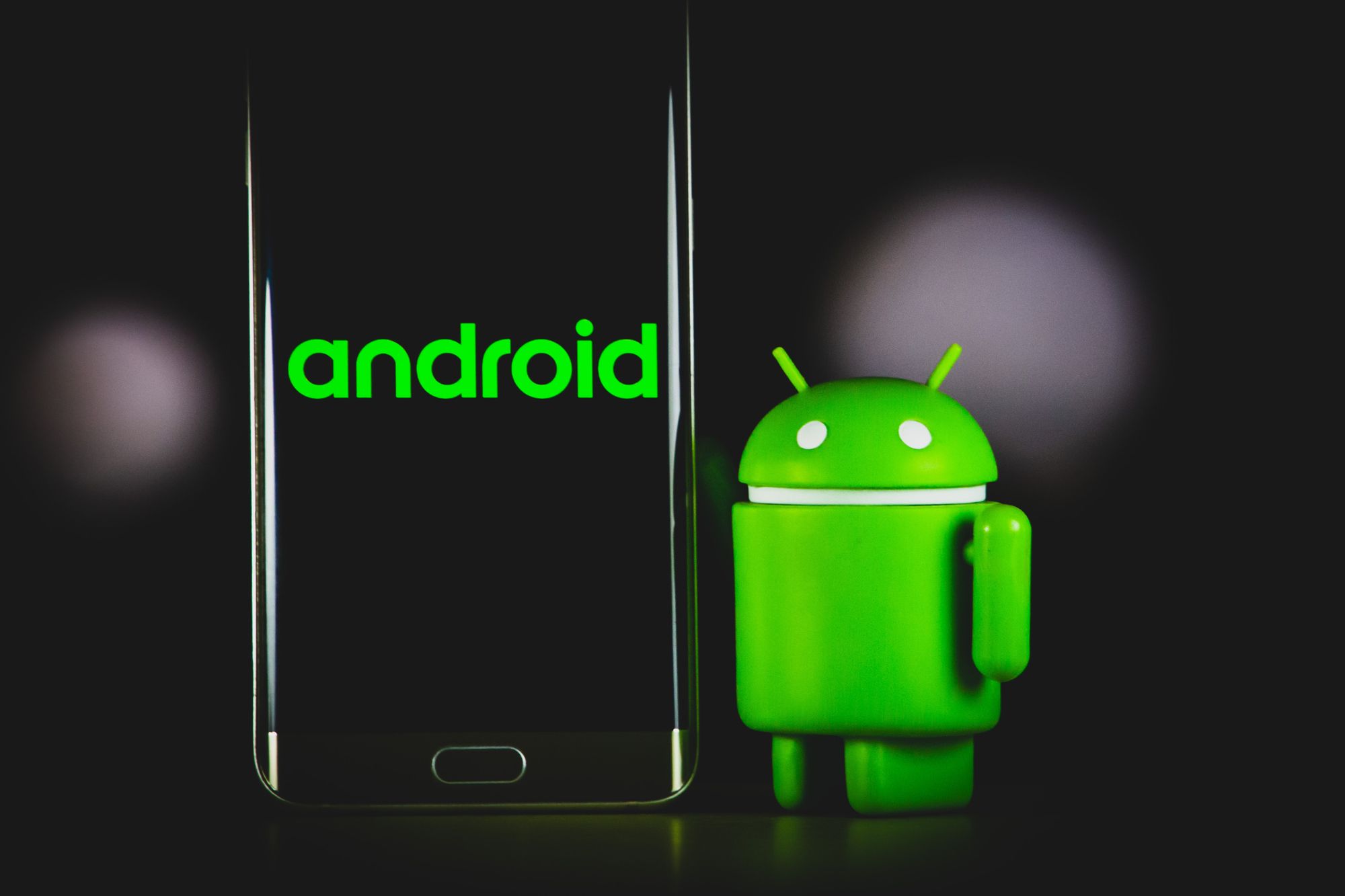 Like the internal adoption of the unofficial logo design, Android's unique plan to compete with other platforms was spreading fast. This became more clear with Google's formation of the Open Handset Alliance, which included phone makers, chip manufacturers, and carriers.
Google CEO and Chairman at the time, Eric Schmidt, shared a statement:
"Today's announcement is more ambitious than any single 'Google Phone' that the press has been speculating about over the past few weeks. Our vision is that the powerful platform we're unveiling will power thousands of different phone models."
A year later, the T-Mobile G1 (otherwise known as the HTC Dream), would have its debut on October 22nd, 2008. Within just a few days, the Android Market (now the Google Play Store) became available on October 28th. On its release, less than 50 applications were made available to users.
The Rise of Android
While Android had started to build a name for itself, the OS didn't reach greater notoriety until 2010 with the release of the Nexus series of devices. This helped cement the popularity of Android devices with both developers and the average user.
From there, Android continued to grow at a massive rate. In 2011, it was reported that Android had passed over 250 million activations, with 5.6 million device activations happening a week!
By December of the same year, the total number of Android app downloads passed 10 billion. It took Android a total of three years and one month to achieve this feat.
The following year, the app store would get a facelift to foster more growth and user adoption. At the time, Google was expanding to offer e-books, music, and movies. The name "Android Market" no longer encompassed this expansion and instead created confusion for users. The app store rebranded to the now-familiar Google Play Store, which offered over 700,000 apps.
Android Dominates in Emerging Markets
With Google in its corner, Android was on a continuing path to dominate the market, reaching more customers globally than any other OS.
Over the years, telecommunications infrastructure had seen major improvements in areas like Brazil, Russia, India, and China. This attracted companies to move in and roll out tech-based products.
Although the infrastructure was there, income disparity was (and still is) a major concern. As a result, global customers found the price point of Android's largest rival, Apple, to be inaccessible. In the smartphone market, Android had found a glaring opportunity, and it gained a strong foothold.
Android's ability to penetrate these emerging markets was due in large part to the fact that it offered cheaper and more affordable options. While the price of an Apple smartphone might have been around $500-700, an internet-ready Android device could be purchased for $100-150.
Globally, customers preferred the cost and flexibility that came with Android being open source and not tied to a hardware vendor. The data showed!
In September of 2021, Kantar Worldpanel in September 2012 showed Android devices made by Samsung, LG, Motorola, Huawei, and ZTE gaining serious traction. In India, Android rose from nearly 47% market share to over 68% in a single year. Android's market share in Brazil more than doubled in a year to reach 47%. In comparison, Apple sat at 6.2%.
The Android-Apple Rivalry
This skyrocketing growth and global market takeover would add fuel to Android's ongoing rivalry with Apple. For example, in 2011, Apple made numerous sales of their smartphone, iPad, and iPod Touch at Christmas. Reports estimate around 4.2 million Apple devices were activated compared to about 2.6 million Android devices.
However in 2013, Android would again dominate, claiming over 80% of smartphone sales. Android made major headlines again when the Samsung Galaxy S was touted as "real competition" by Business Insider for the iPhone 4S and 5.
Over the years, there have been many opinions on which operating system is "superior", more cost-effective, and/or easier to use.
For example, one Reddit user shares their take:
"Android runs on phones across the quality spectrum. Apple only makes high end devices. To get a fairer comparison, you must compare a high-end Android to a high-end iOS device.

Android is the more flexible, customizable operating system whereas iOS works cleanly and painlessly out of the box. This comes at a price in that Android can be more of a pain to deal with. But when users become experts, it works beautifully.

You get a lot more versatility in what you can do with the phone (file system, overclocking, undervolting, other general hackery) and the personalization is surpassed by no other OS. It truly becomes a powerful device whereas power users on iOS may eventually feel walled in by Apple's restrictions."
Another user writes:
"I worked at radio shack for awhile, and this is my take on iOS vs. Android.

First of all, Android phones are a good transition from basic phones from people who are unfamiliar with it. Someone may not wish to spend a lot of money on a device, so a budget Android device may be great for them, especially if they just plan to text, call, and play angry birds.

However, if someone's budget allows it, iPhones are much easier to use. Apple devices are wonderfully designed and very visually appealing, and are simple for those who find computers and the like confusing."
Android's Rising Criticism
Despite the rivalry, Android was gaining further traction. However, as it grew in popularity, it simultaneously received greater backlash on a few fronts.
Malware
After 32.8 million devices were found to be infected with malware in 2012, rumors circulated that Android devices came with malware. This was especially pressing news since new malware discoveries had tripled since the prior year.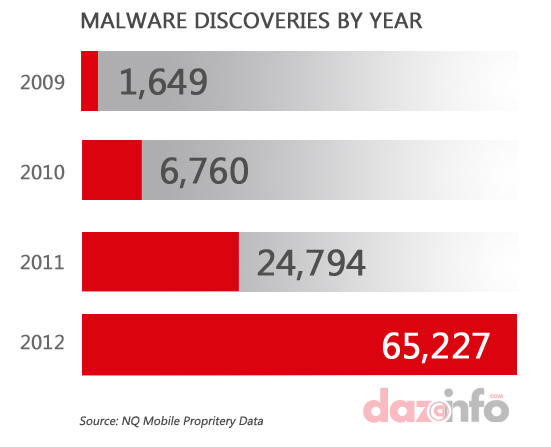 The issue with malware brought to light challenges for Google and Android. The open-source nature of the operating system created entry points for malware. Additionally, a majority of customers were still using an older versions of Android, leading many to miss out on potential updates to safeguard their devices.
Fragmentation
Relating to the above point, a big issue historically is that there is a huge number of different OS versions running across Android devices. Today, these range from the most current version, all the way back to versions 4.0 and 4.1.
Fragmentation stems from having numerous companies that create their own devices that run Android. In other words, since Android is open source, the update rollout is in the hands (and wallets) of the brands and manufacturers that decide to use it on their devices.
Fragmentation is positive in the sense that Android provides more choices to satisfy the budget and device preferences of millions of consumers. On the other hand, fragmentation leads to security problems. Older OS versions end up housing issues that require the new version to "patch" them up, removing major vulnerabilities.
While iPhone users are generally up to date, Android users are on average 1-3 years behind on updates. However, Google is working to speed up the adoption rate of new versions.
What are all the versions of Android?
Speaking of versions, here's a list of versions released over the years. With a few exceptions, most versions are named after popular sweet treats and are released in alphabetical order.
Android 1.0: September 23, 2008
Android 1.1: February 9, 2009
Cupcake (1.5): April 27, 2009
Donut (1.6): September 15, 2009
Éclair (2.0): October 26, 2009
Froyo (2.2): May 20, 2010
Gingerbread (2.3): December 6, 2010
Honeycomb (3.0): February 22, 2011
Ice Cream Sandwich (4.0): October 18, 2011
Jelly Bean (4.1): July 9, 2012
KitKat (4.4): October 31, 2013
Lollipop (5.0): November 12, 2014
Marshmallow (6.0): October 5, 2015
Nougat (7.0): August 22, 2016
Oreo (8.0): August 21, 2017
Pie (9): August 6, 2018
Android 10: September 3, 2019
Android 11: September 8, 2020
Android 12: October 4, 2021
Android 13: August 16, 2022
So, why are most versions named after sweet snacks?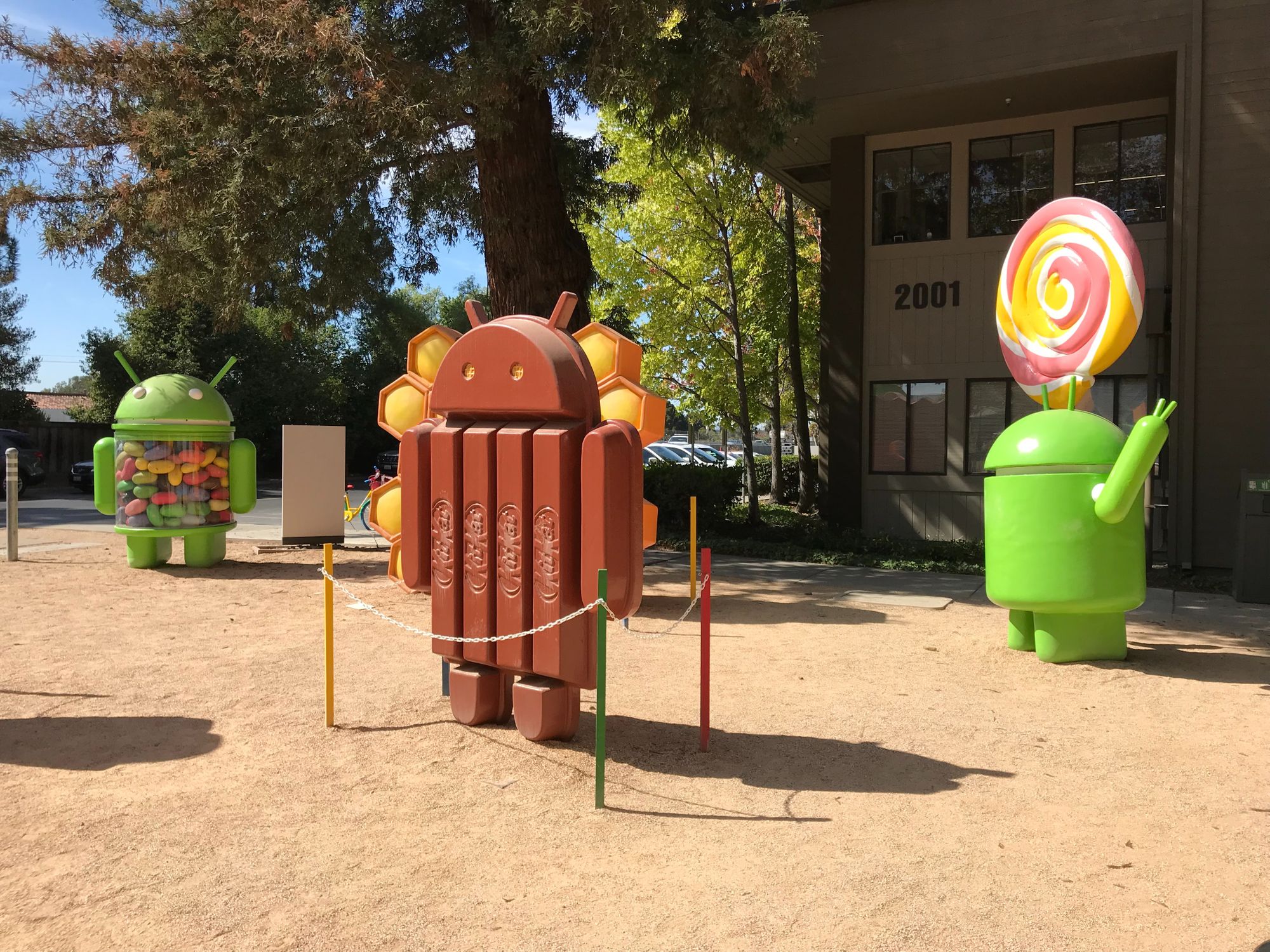 The origin of this tradition appears to be a little less certain, and that uncertainty has led to speculation.
Some say Andy Rubin liked dessert and started this trend. The more popular reason shared online is that the naming convention reflects the idea that Android is "sweetening the lives of millions."
The other major question people have is why the naming convention stopped at Android 10.
Google's VP of Product, Sameer Samat, shared that the decision was made so the version name would be more easily understood on a global level:
"One piece of feedback we've gotten from users over the years is that the dessert names are not universally understood in different cultures and different languages. Food tends to sometimes be a local thing."
The Larger Android Ecosystem
Throughout the years and versions, Android has continued to expand beyond just running on smartphones. Today, the Android ecosystem includes Wear OS, Android TV, and Android Auto.
That's what we'll look at now.
Wear OS
Initially known as Android Wear, Wear OS was released in March of 2014. This is Google's take on a smartwatch operating system in the vision of Android. Like its iOS counterpart (WatchOS), Wear OS supports heart rate tracking, notifications, calls, and music controls.
Similar to Android OS, Wear OS is openly available for third-party use. This results in a lengthy list of smartwatches that support the platform, leaving consumers with plenty of choices. The list includes traditional and luxury watch brands, like Fossil and Michael Kors, as well as newer tech-centric brands. For smartphones, any Android device running Android 6.0 or later is compatible, along with any iPhone running iOS 10.0 or later.
Since its release, Wear OS had undergone new updates and rebrands. The most recent update is the release of OS 3.0 in partnership with Samsung. This update appears to be a long-awaited refresh on Wear OS, with improved performance, energy efficiency, and fitness tracking.
Android TV
Released in 2014, Android TV is Google's version of the operating system for TVs, set-top boxes, and soundbars. Android TV is incorporated into a number of TVs from companies like Sony and Phillips and can be accessed via stream video players like Nvidia Shield TV Pro.
What results is a smart TV solution for those that prefer customization and integration, using Google apps and services.
Android TV includes access to curated content, universal search capabilities, music apps, game stores, and the Google Play Store. Additional features are also available on Android TV boxes (that differ based on the company) including built-in Chromecast support, Google Assistant, Bluetooth, and additional ports.
Recently, Android TV 12 rolled out for developers. Newer changes with the Android 12 TV update support more privacy controls, the much anticipated 4K UI support, and a few other tweaks.
Android Auto
Launched in 2015, Android Auto was designed to allow a user to safely use their phone while driving. This includes offering turn-by-turn directions, hands-free calling, and an audio player. It features a larger screen display and voice control through Google Assistant.
It's offered as a standalone app, or a user can connect their phone to their touchscreen car radios or infotainment systems via Android Auto Wireless or a direct USB connection to mirror the phone display.
Android Auto works with the majority of Android phones that run Android 6.0 through 11. There is an extensive list of vehicles that support Android Auto from various automakers. Several aftermarket car radio manufacturers also support Android Auto, including Kenwood, Sony, Panasonic, and Pioneer.
While Wear OS and Android TV seemed to have relatively favorable recent updates, the newest updates with Android Auto 8.0 appear to leave the average user frustrated.
What is Android's market share?
Through all its iterations and devices, Android has consistently captured a majority of the market share. According to StockApps.com, its highest market share sat at over 77% in July of 2018.
However, their worldwide market share as of January 2022 was roughly 70%. This is a nearly 8% decline from 2018. Additionally, iPhone has recently overtaken Android in its U.S market share. According to Counterpoint Research, iPhones now claim 50% of the U.S. smartphone market share. In Q2, the research shows that a number of Android users migrated to iOS devices.
So, is Android's reign of the smartphone market coming to an end?
Not really. Edith Reads of StockApps shares that the loss of market share comes down to OS competition. However, Android still has a strong hold on global market share. In Africa, 84% of smartphones run on Android. Android has a market share of almost 70% in Europe. South America is at 90% (iOS sits at 10%), while Asia sits at 81% (iOS holds 18%). In North America, iOS comes out on top with 54%, while Android holds 45%.
Looking at the global picture, Android still appears to be dominating. Now, let's move on to exploring the impact of its dominance.
How has Android impacted the smartphone industry?
Android brought the possibilities of open-source software to the masses. Before Android came to market, open source was less common outside of Linux. Companies preferred keeping their proprietary code under lock and key (or behind a paywall).
With Android, companies soon saw the benefit of using an open source OS. Bugs could be found faster, and the software could benefit from external developer talent. Open source could also allow companies to reduce production costs by up to 30%.
From a developer standpoint, open source meant that paying licensing fees was unnecessary. Development time and cost were also reduced in customizing existing systems.
For consumers, Android's open source offering lowered the price point of devices while providing numerous new options. This has allowed more consumers around the world access to smartphones and low-cost digital apps. Plus, more would-be business owners could now capitalize on tools to help them access early capital or launch their product.
Overall, going open source was a revolutionary decision by Google and Android. Not only has this decision impacted and established OS leadership in the smartphone landscape, but it has impacted the world's economy.
What does the future of Android look like?
Together, Android and Google continue to iterate on the original vision of a free and accessible open source operating system. This includes updates that may fall in line or "keep pace" with the iPhone, but also ones that are more advanced or unique to the Android OS.
Security is one area where Android falls behind Apple. With Android 12, new updates provide an option for users to opt-out of in-app tracking and targeted advertising. They have also made it more difficult for developers to track the users that have opted out.
In terms of trademark Android updates, Android 13 has been released to users of the Google Pixel as of August 2022. Most notably, the new update allows for greater personalization of the user interface, where users can make their phones feel more tailored to them.
Another area is Android's expansion to offering foldable and dual-screen phones. Questions arise on whether the OS capabilities are stretched to the max with these larger screen sizes.
Looking ahead, Google and Android are also working toward a couple of key initiatives that create greater simplicity, connectivity, and compatibility between devices and operating systems.
For example, Google is quietly working to align the Google Play Store and Chromebook operating system (ChromeOS). The vision here is that Chromebook users should be able to quickly find and download the right version of an app (without any additional research and thought), and launch an optimized user experience.
Speaking of operating systems, conversations have been flowing around Google's development of a new, universal OS called Fuchsia. The OS is intended to support collaboration and sharing. In a way, this cross-device connection potential could be likened to watching a show in one room and picking up where you left off in another. Greater applications could include other people and their devices as a part of the equation too.
The goal of this connection potential is to include Android and non-Android devices, including desktop PCs. Today, the Fuchsia software development kit (SDK) is available for developers.
Twenty Years of Android
That's a wrap on our history lesson!
Since its low-key start in 2003, Android has grown massively amidst competitor rivalry and many ups and downs. In its current work with Google, more "stealthy" projects and updates are in the pipeline. Even with more growth and expansion on the horizon, further challenges are always ahead.
All things being said, Android has made its name by taking a unique approach to the smartphone space. Past decisions have paid off, and Android continues to make its mark.
Now, we pass the question off to you: Android or Apple?