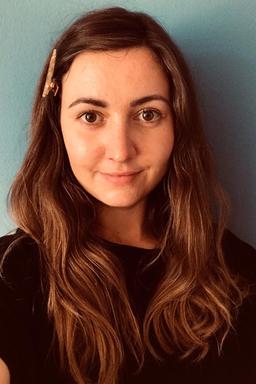 Tracy Phillips
CodeSubmit Team
Technical Recruitment: How to Attract the Right Candidates
Want to know how to set up a technical recruitment process that works?
When you attract the right technical talent, there are secondary benefits in building your employer brand and growing an incredibly productive and profitable tech team.
Here's what you need to know.
What is technical recruitment?
First things first:
What's the importance of technical hiring?
Developers tend to be some of the most expensive hires.
The average cost-per-hire is around $4,000, according to both the Society for Human Resource Management and Glassdoor. Positions typically take 42-52 days to fill.
These costs are likely to be higher for technical hires, as salaries tend to be on the higher end.
For example, if you use external technical recruiters to hire a developer, the recruitment costs alone will amount to 20-25% of a developer's base salary. (So, if a new hire is paid $100,000, the recruitment costs are $20,000 to $25,000.)
And technical hires are not easy to find. The numbers prove it:
That's why technical recruitment, and getting the process right from the start, is so important.
Good technical recruiters help you source and identify the best candidates.
They bridge a gap between non-technical hiring managers and team executives and technical candidates.
So, should you hire your own technical recruiters? Let's take a look.
Should you do tech recruitment in-house or outsource it?
What's better -- to do your tech hiring in-house or outsource it to an agency?
There are pros and cons to both approaches.
An in-house team:
Understands your employer brand, culture, and team needs on a deeper level
Allows for easier, faster, and more frequent communication
Involves true employer brand ambassadors that make the entire recruitment process feel more authentic
Technical recruitment agencies offer:
A more scalable solution
Access to more diverse expertise than a typically in-house team
In some cases, cost savings
We typically recommend that you have your own in-house team. That in-house team can then work with agencies to scale your processes when the need arises.
But if you're only looking for short-term hires now and again without the need for a technical hiring team, outsourcing might make the most sense.
If you go with an agency, be vigilant that the agencies you work with don't use "tactics" like spammy, generic LinkedIn messages or even blackhat recruitment strategies.
What technical recruitment skills do you need to master?
At least some of your technical recruiting team should have a background in tech.
For example, be sure to involve your CTO and/or the rest of your technical team in technical hiring decisions.
Make sure that you and your team understand the technologies you're hiring for.
You'll need it to be able to assess your candidates. And you probably don't want to be seen as completely clueless by applicants:
I saw a job post the other day. 👔

It required 4+ years of experience in FastAPI. 🤦

I couldn't apply as I only have 1.5+ years of experience since I created that thing. 😅

Maybe it's time to re-evaluate that "years of experience = skill level". ♻

— Sebastián Ramírez (@tiangolo) July 11, 2020
How do you become a technical recruiter that candidates love working with?
Want to be seen as a "go-to" technical recruiter in your organization and industry?
There are several perks to standing out as a tech recruiter. When you have a reputation as someone who is good to work with, you're able to build relationships with technical talent, which makes it easier for you to hire top performers. Plus, a broad network makes your value as a recruiter go up.
Now, if your organization's employer brand is bad, you can't put lipstick on a pig. In that case, your first task is to improve your brand and candidate experience (which we'll talk about below).
As a recruiter, you can improve your success rate by…
Working together with candidates to find a role that fits them well
Being open and honest about the position and its requirements
Not wasting candidates' time! If a role specifically requires a deep understanding of Ruby and candidates don't have it, tell them about this requirement
Explaining the recruitment process and keeping in touch with candidates throughout the process (remember: they're putting their time into the process and deserve to get timely information)
That's it, now you have the fundamentals in place. But how do you build a process that helps you find the best candidates? That's what we'll look at next.
How do you develop a technical recruitment process?
One of the best ways to attract talent and improve the candidate experience is to develop a great technical recruitment process. Your process covers everything from the planning stages to making the decision of whom to hire.
It pays off to put time and effort into your tech recruiting. 80% of candidates say that they wouldn't apply to a company again if they have a negative candidate experience, and 50% will tell others not to apply. In other words: your reputation and long-term success at building a great team depends on how good your hiring process is.
So how do you create a great recruitment process? Here's what you need to know.
Know your team's wants and needs
Before you start looking for a new developer, you need to know what you're looking for in a candidate. Which languages/skills are non-negotiable and which are nice-to-haves? Which characteristics are important so that your team functions well together? And what is your salary budget?
It's likely that no single candidate will meet all of your criteria. But having a list makes it much easier to zoom in on the right candidates. Plus, you create a more objective hiring process; one that isn't based on gut feelings or arbitrary requirements.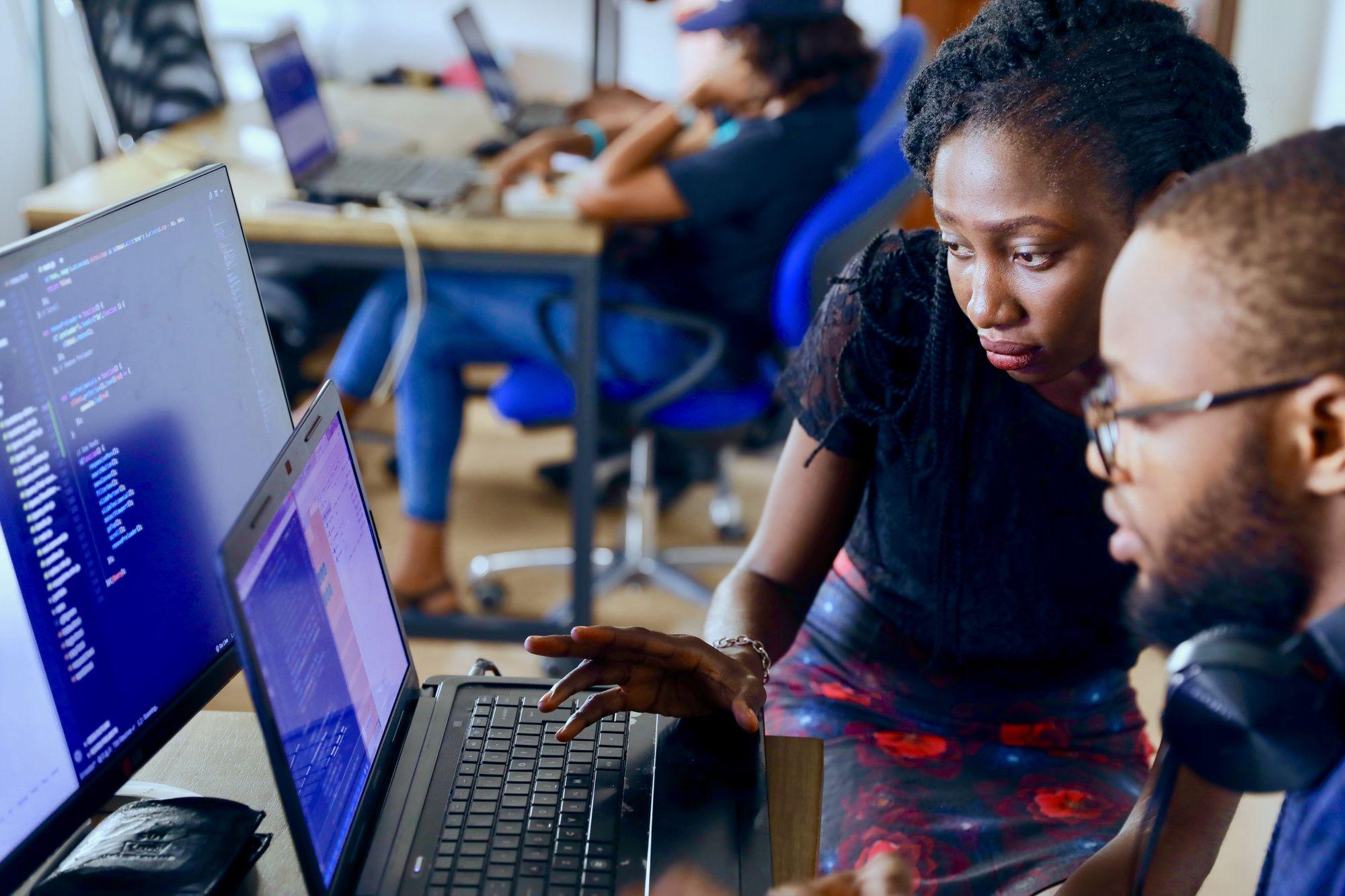 Communicate clearly with candidates
One of the areas where your technical recruitment process can likely improve is communication. A CareerBuilder survey showed that 81% of candidates say that one of the top ways to improve the overall candidate experience is continuous communication, while 52% say that their biggest frustration is a lack of response from employers.
How can you do better?
Give candidates a clear idea of what the process will look like from start to finish. Lay out key checkpoints, like when you will make key decisions, and let them know how promptly they can expect to hear from you.
Be in touch on the days when you've promised to do so, and if the process is taking longer than expected -- communicate!
Communication should also match the candidates' investment in the process. Early on, you can reject candidates with a simple email or short call.
But once they've spent more time on your process, and possibly even gone through a coding test, you owe it to them to be more personal. Call them, and in the case of a skills test, give them feedback. Yes, this does take time -- but it pays off as candidates remember your first-rate hiring process.
Create a great careers page
The next step is to create a great careers page. This is a page with information about what it's like to work at your company, possibly with team member interviews and images of what your team culture looks like.
Candidates often research your company beforehand, so a well-executed and engaging careers page will help them understand if your company is the right place for them and get them excited to apply.
Need inspiration? Here's Slack's career page: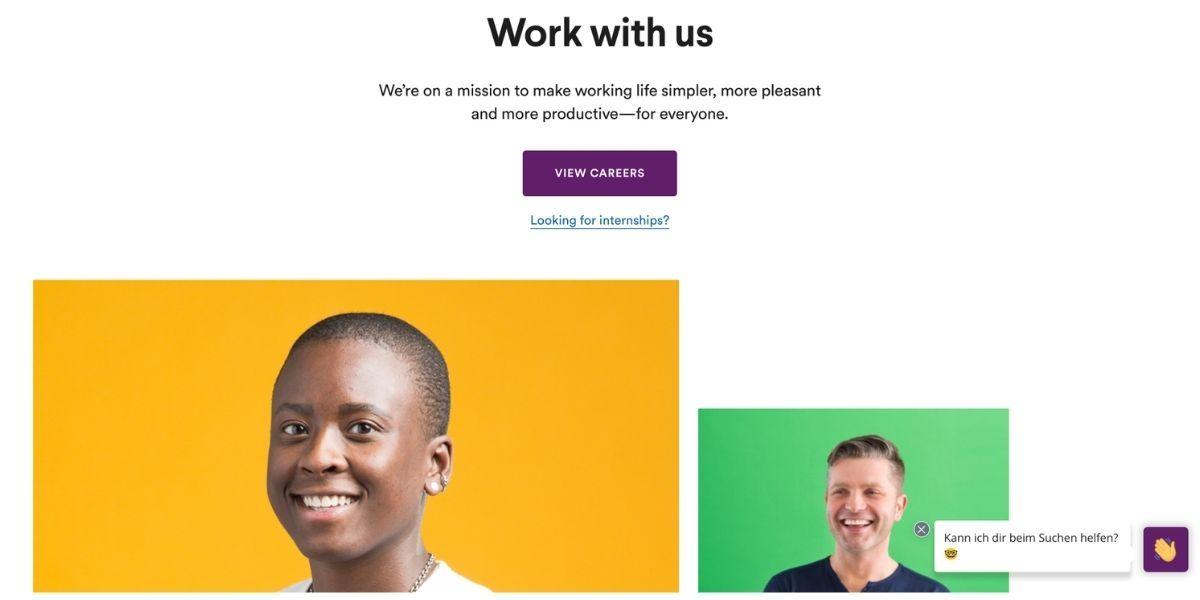 And Facebook's: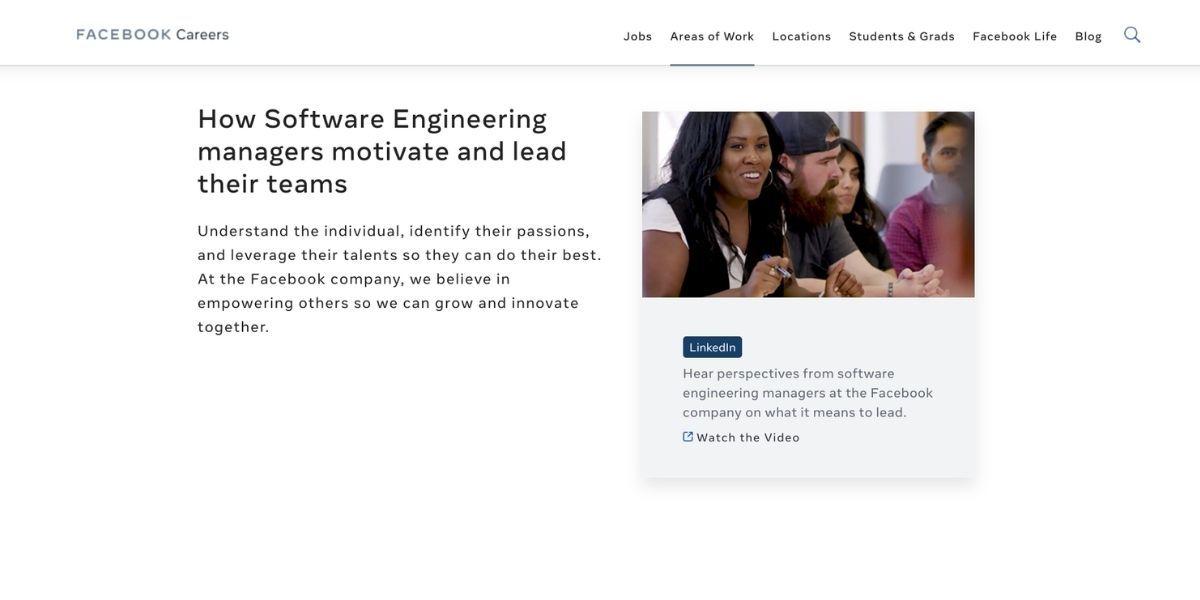 Write thorough job descriptions
A poorly written job description does nobody any favors! Create a job description that is precise and relevant. Include the skills that candidates need, and say something about what the day-to-day will look like at your company. But don't over inflate the role! Remember: If you make it sound way better than it is, you will likely have higher employee churn.
Look at what competitors are doing. Can you stand out in some way? Maybe your company culture is fun and laid back, whereas your competitors are stiffer in their messaging. Use that in your job ads!
However, be careful with how you word your job description. Studies show that specific words will attract or turn candidates away. For example, words like "competing" and "dominant" tend to turn away female applicants.
To create a diverse team, use words that are more objective and less attached to gender or other stereotypes.
Conduct engaging interviews
How and when you conduct interviews are an important part of your technical recruitment process. Typically, you'll hold at least 2-3 interviews when hiring a new developer.
The first interview tends to be a short phone interview to start screening candidates.
You then typically have one more phone interview and an onsite interview. (Or, you can just do onsite interviews. Consider, though, that to expand your pool of candidates, you might want to consider opening your process to remote developers. In that case, all your interviews are phone/video call interviews.)
The two best practices for your developer interviews are:
1) Asking candidates the same questions, in the same order. Organizations that don't have a standardized interviewing process are 5x more likely to make a bad hire than those with a process.
Your recruitment process becomes much more objective and you improve your chances of hiring the right person rather than letting bias and subjective opinions take over.
2) Including behavioral questions (or questions that look at past accomplishments and behavior as an indicator for future success).
Need technical recruiter interview questions to get you started? We created this guide with 50+ interview questions.
And to improve the candidate experience further, we suggest that you keep applicants up to date with what your process looks like. This includes:
Informing applicants of the people who will be interviewing them
Giving options where and how to interview (e.g., so that candidates with disabilities or other restrictions can participate in the process)
Have some flexibility in your interviewing schedule (this way, you make it easier for already employed candidates to apply for positions at your company)
Assess candidates' relevant skill-set
The last step is to assess developers.
This is done with a coding assignment.
Skills tests like coding tests are an important part of the process. You see, pre-hire employment screenings have been shown to increase the likelihood of hiring top performers by 24% and lower turnover.
The best way to assess candidates is with a take-home coding challenge.
These are challenges that candidates work on at home using their own tools, preferred coding environment, and workflows.
The reason these work so well? They objectively show a candidate's skill level.
Other alternatives, such as whiteboarding (where candidates work on a task in front of the hiring team) simply don't provide a great candidate experience or measure the right things.
And since developers dislike most types of assessment tests, you really want to ensure that you're setting up a process they enjoy.
(Just to be clear, there are assessments that a majority of developers enjoy working on, such as take-homes. The things our clients say at CodeSubmit includes feedback like this: "The feedback that we received from the candidates about their experience was overwhelmingly positive - specifically regarding the ease of the process, as well as the personal and engaging experience the process offered.")
You can try out take-home challenges with our demo challenge.
We also offer other types of challenges for companies with different needs, including pair-programming and screening tests.
That's what your technical hiring process looks like. But how do you attract candidates to apply in the first place? That's what we'll look at next.
How do you attract and source candidates?
Attracting candidates takes some upfront work. But once you've built up your reputation as a recruiter and employer, it becomes far easier, and cheaper, to find the right talent.
Improve your candidate experience
You can do everything right, but if your candidate experience is bad, you won't appeal to the best talent.
A poor candidate experience can also mean lost revenue.
A Deloitte report shows what this can lead to. A media organization realized that 18% of their applicants were customers and 6% of those disconnected their service and took their business elsewhere, leading to a loss of $5.4 million in revenue -- all due to a bad interviewing experience.
At the same time, CEB reports that while 70% of HR professionals think a positive candidate experience is important, only 40% monitor it.
What's more, you never know where someone will be a few years from now. Even if someone isn't a good fit now, they might be in the future. And if they had a good experience interviewing with you, they are much likelier to consider your offer down the road.
Ultimately, improving your candidate experience comes down to treating your candidates as you'd want to be treated and recognizing that they're investing their own time and energy by going through your hiring process. Keep them updated, so that they don't have to wonder why you ghosted them. And if you end up hiring someone else, give them feedback they can use in their job search.
Also, make it a fun experience to interview with you. Be friendly, get to know them as they get to know the company, and use a coding assessment test that feels like a real project (and isn't too long, 3-4 hours is a good time limit for a take-home coding challenge).
Leverage positive reviews and testimonials
Social proof is a great way to get people to take action and apply for your jobs. Ask employees to share why they love working at your company. You can share these testimonials via social media, your awesome careers page, and more.
For attracting diverse candidates, remember to include testimonials by a diverse set of developers.
Use the right sourcing channels
Reach your applicants by using the right hiring channels. We've listed some here below, but what it really comes down to is using channels YOUR ideal candidates use.
LinkedIn
LinkedIn is a good place to start, even though it can be harder to stand out on this platform. Keep an active LinkedIn presence to grab people's attention and widen your reach.
Job platforms
You can also post your job ads on job platforms. For more targeted candidates, use a more niche platform, like Hacker News. If you're looking for contractors, Toptal has a great pool of candidates.
Referrals
Use employee referrals -- to an extent. Referrals can easily lead to a homogenous workforce, which isn't great if you want to stay innovative and competitive.
Stack Overflow and Github
Stack Overflow and Github are websites where developers hang out. In other words: these are great places for posting your job ads.
Online and local events and organizations
To reach a more diverse group of candidates who might not hang out in the "typical" developer watering holes, consider visiting online or local events and organizations. For example, look at Meetups for women, BIPOC and other underrepresented groups to get applications from a more diverse group of people.
Colleges
If you're looking for entry-level developers, colleges and career fairs can lead to some great hires. Remember: if you only visit Ivy League colleges, you're likely to get a specific type of applicant (or no applicants at all, since everyone is trying to hire Ivy grads). Consider sourcing candidates from more diverse educational institutions, including programs for people who're reskilling.
Social media
And of course, social media, including sites like Quora and Reddit, can help you connect with the right developers. For example, this Reddit community may be a good place to start.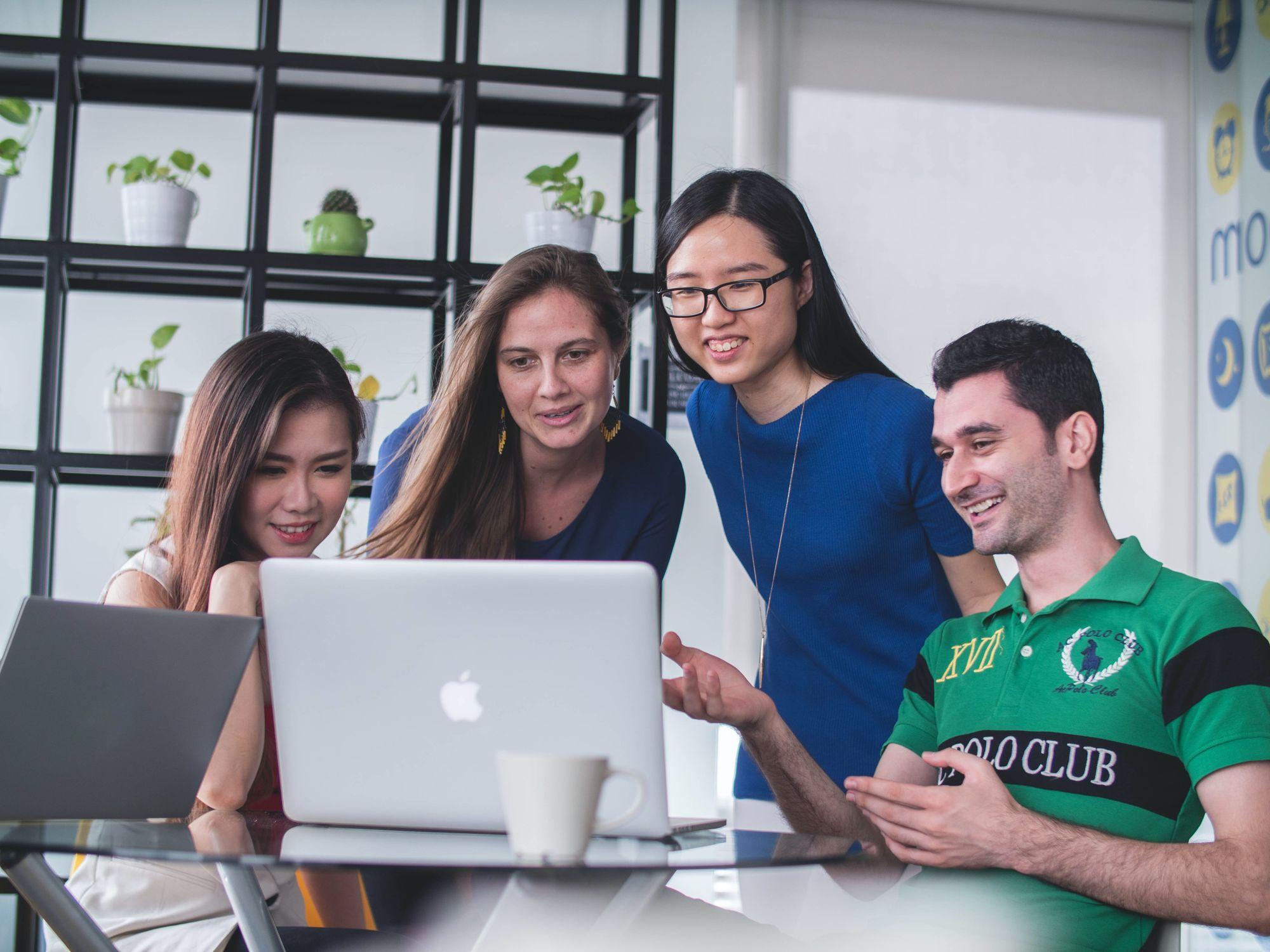 How do you choose the right developers?
Finally, how do you choose the right candidates?
This depends on your hiring criteria. For example, this is what Slack looks for in developers:
"The exercise is graded against a rigorous set of over 30 predetermined criteria. We're looking for code that is clean, readable, performant, and maintainable. We put significant effort into developing these criteria to ensure that, regardless of who grades the exercise, the score is an accurate reflection of the quality of the work."
Stack Overflow, on the other hand, has five criteria it looks for. These are:
1) Open source projects/a technical blog
Stack Overflow values developers who love their work and uses this as a way to identify candidates who enjoy coding in their free time.
2) Stack Overflow reputation points and Github profile
The company looks at developers' reputation score and their Github code samples to understand their depth of knowledge.
3) Experience/an exceptional skillset
The next thing Stack Overflow looks for are candidates who have demonstrated technical excellence in a specific area. For example, if someone knows more than one programming language, that's a clear plus in their books.
4) Track record of finishing projects
The hiring team doesn't look for people with certifications, but people who have actually built something from start to finish.
5) Communication skills
The last criterion is communication. Stack Overflow looks for developers who can collaborate and explain their code. For example, they look at candidates' blog posts or top Stack Overflow answers to get an understanding of their communication skills.
And Pinterest says:
"Our team is made up of people who are excited about the product, technical challenges, and the values important for living well-rounded lives. Ultimately we're looking for people who will stay and be happy at Pinterest."
Your hiring criteria depend on your needs. A good rule of thumb is to look for people who have the skill level you need. Say you don't have anyone on your team to train a junior developer. In that case, someone who has more experience, such as a senior developer, might be what you need.
Also, communication skills and teamwork are essential for any role, including developers. You probably have non-technical people on your team, and if your developers can't explain what they're doing, you likely have a major bottleneck that keeps your team from doing their best work.
Improve your technical recruitment process
There you have it. Now you know how to set up your own tech recruitment process.
What it comes down to is focusing on creating a great process and sourcing and identifying the right candidates.
Want to improve your own tech recruiting process with the right candidate assessment platform?